51ME Commando
Primary tabs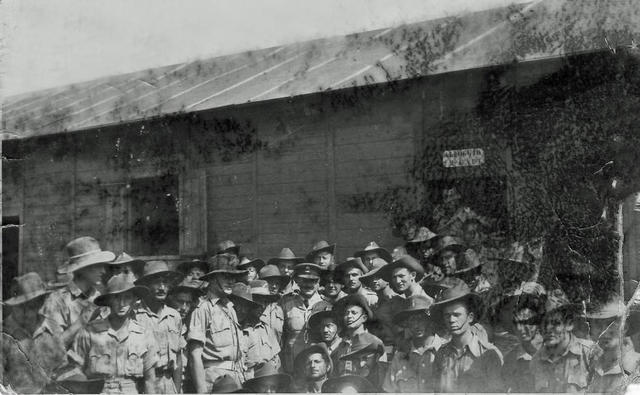 East Africa February to October 1941
This article was written by Harry Fecitt MBE TD , ex-68 Company, Royal Pioneer Corps.  
The Beginning
In the early days of World War II it was decided to resurrect the Labour Corps used in the Great War but under the new title of the Auxiliary Military Pioneer Corps (AMPC). Britain looked towards its colonial and other territories for units to be raised, and in Palestine several units were formed, the first being recruited at Sarafand and titled No. 1 Palestine Company AMPC. The Company was 650 men strong, about 60% of the recruits being Jews from eleven European countries, whilst the remainder were Arabs mainly from Palestine, Sudan, Iraq and Egypt. From the first days of formation these different ethnic groups worked together in harmony.   Major H.J. Cator MC, Royal Scots Greys, volunteered to be the unit commander and took over the unit on 31
st
January 1940. He had been awarded the Military Cross during WW1.  
The unit sailed for France on 22nd February and on arrival was re-designated 401 (Palestine) Company AMPC and employed on railway and road construction duties in the Rennes area. After the German invasion of France the Company moved to the coast where on 17th June it was withdrawn to England aboard two trawlers, landing at Weymouth. Cator agitated for a combat role for his men, and after a few weeks of pioneer employment in the United Kingdom the Company sailed on 6th August to return to Palestine via West and South Africa and Suez, where they arrived on 15th September.
Middle East Commandos
A decision had been made to form Army Commandos in Egypt, and this resulted in the raising of 50, 51 and 52 (Middle East) Commandos. These units were not connected with the Army Commandos being raised in the United Kingdom, and they were designed for raiding operations in and around the Middle East. 51 Commando was raised from Cator's 401 (Palestine) Company AMPC.
51 Middle East Commando in Egypt
Cator selected the best 300 men from the AMPC company to join the new Commando, the remaining men staying in the pioneer role and being re-designated 601 Palestinian Company, AMPC. 51 Commando was given an establishment for an Adjutant, Medical Officer, Regimental Sergeant Major, Orderly Room Sergeant and for officer and Non-commissioned Officer (NCO) appointments in the troops and sections; the Adjutant was expected to perform the Q duties, although later a separate post was created for the Quartermaster. Selected volunteers from the British Army were posted in to fill the new establishment vacancies.
Bren light machine guns, rifles, Thompson sub-machine guns and grenades were issued, as was a combination dagger and knuckleduster known as a Fanny that was carried by each man. Officers and Numbers 1 and 2 on the Bren guns carried revolvers.
After a leave period serious training started at Geneifa and the British Army personnel were quickly impressed with the toughness, determination and enthusiasm of the men, who were designated as Raiders.
The Great Bitter Lake was used for boating and submarine familiarisation work, and the Sweetwater Canal for rafting practice. Long and fast marches were made through the rocky desert leading to a very high level of physical fitness. Demolition skills were practised in the sandy wastes. After planned operations in the Mediterranean failed to materialise 51 Commando was posted to Eritrea.
Eritrea
On 24th January 1941, 51 Commando sailed from Suez for Port Sudan, spending the next three weeks acclimatising and training in Gedaref. Cator went to Khartoum for a briefing where he was told that his Commando would be attached to the 4th Indian Division that was involved in the fierce fighting for Keren where an Italian colonial army was resisting a British advance from the west. The Divisional history records:
" . . . 51 Palestine Commando, a tough and aggressive agglomeration of Jews and Arabs under British officers, were taken under command."
Cator's orders from the Divisional Commander were to institute a programme of patrolling and ambushes to support the manoeuvres of the brigades in the division.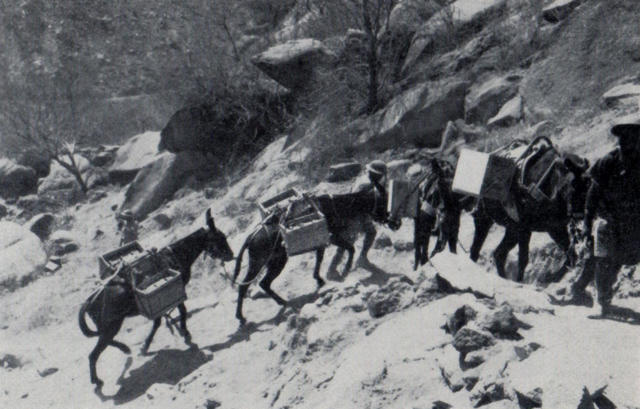 He obtained transport from Sudanese camel drivers and from the muleteers of No. 2 Cypriot Pack Transport Company. On 27
th
February 51 Commando was operating in the Ashisha area, west of Keren, with the aim of seizing water holes to prevent the enemy's use of them.  
The Commando patrols soon made contact with enemy units, and whilst enemy soldiers were killed or captured, the Commando took casualties as well. During this period Cator was ordered to send one of his troops back to Divisional HQ for re-deployment, then the complete Commando was ordered back to Division.
51 Commando's new task was to occupy a hill west of Samana named Beit Gabru and from there to harass Italian observation posts that were making life difficult for the Indian infantry below them. In the meantime No. 3 Troop that Cator had sent back to Division had got itself into a tough fight whilst attached to an Indian battalion in 11th Infantry Brigade. The Troop, under Captain H.S. Frost, had been ordered to climb a steep gulley running south from Beit Gabru and to attack enemy positions and observation posts found there.
The operation ran into difficulties but one of the NCOs, 6285981 Sergeant George Heath, of The Buffs (Royal East Kent Regiment), later received a Distinguished Conduct Medal. His citation is worth reading as it describes the operation.
DCM citation for Sergeant George Heath
"Before Keren, Eritrea.
On the night of 4/5 March 1941, three Officers and 35 other ranks were given the difficult task of scaling a very steep gully running south from the heights of Beit Gabru. Their instructions were to harass the enemy position at the top where ever possible.
At 2230 hours they bumped into an enemy post, which incidentally happened to be wired, and having got through the wire succeeded in killing all the occupants of the enemy position. They straight away moved on and took up a position on top of the high ground awaiting daylight, hoping then to see what their next best move should be. As daylight broke they were engaged by Breda (an Italian make of machine gun), mortar and rifle fire at close range. It was evident that a considerable force of the enemy was endeavouring to surround them. At this period two men were badly wounded. The officer, realising that they were not a strong enough force to hold their position, gave orders for a withdrawal. He, Sergeant Heath and one other officer remained behind to cover the withdrawal with their Tommy Guns. The distance to the edge of the ridge where troops could take cover from fire was a matter of approximately 60 to 70 yards. This vantage point having been gained, the covering party started to withdraw themselves. After retreating some 30 yards, they came across one of the wounded men previously mentioned. His legs appeared to be paralysed.
Sergeant Heath again gave covering fire while the two officers endeavoured to drag the wounded man to cover. They had gone but a few yards, when the officer commanding the party was hit in the foot, at the same time the wounded man received another bullet which killed him. Both men then proceeded to assist the wounded officer and again before the safety margin could be reached the Officer Commanding the party received a second wound which laid him low, and the other officer was hit in the foot. Sergeant Heath received a graze on his left arm that stopped him from getting a wound in his hip. The Officer Commanding the party's last words, were orders to leave him and for them to get away as best they could. Sergeant Heath again gave covering fire with his Tommy Gun. At this period his Tommy-Gun jammed, and he managed to make the falling ground without further incident. At the same time helping back the other officer hit in the foot. Sergeant Heath was the only British NCO in the party. The exemplary nature of the way Sergeant Heath behaved was remarked on from all sides.
Since that date, he has continued to work with untiring energy in spite of the fact that he has had to attend sick parade daily, and has refused to be sent down on the sick list. His command has since been taken over by another officer. Both on 15th March and 21st March 41, it attacked enemy positions advancing over very difficult and exposed ground. On both of these occasions, Sergeant Heath by his coolness, determination and initiative helped very largely in these positions being gained by our troops."
[Source: London Gazette 35221, page 4110]
The Troop had inflicted over 40 casualties on the Italians.
Captain Henry Frost was killed in the action and awarded a posthumous Mention in Despatches.  Raiders Private Itzchaz Ulrich and Private Shmaryahu Wajnsztejn were the other fatalities. The three men are buried in Keren War Cemetery.
Cator continued with his tactics of patrolling, ambushing and quickly withdrawing which was all that his men could do with the light scale of weapons that they carried.
However on 15th March raider Private Jakob Dab (PAL/10810) demonstrated what could be courageously achieved with grenades fired from his rifle. He was awarded a Military Medal.
MM citation for Private Jakob Dab
"Before KEREN, ERITREA.
On 15th March 41 No. 7 Section was advancing over very difficult and exposed ground toward a ridge, the third objective. After advancing 300 yards up a Khor (water course, often dry) the section came under very heavy fire from Light Machine Guns. Under cover of the fire from the rifle sub-section and making use of what poor cover the Khor gave Raider DAB accompanied by two others proceeded still further to within 150 yards of the base of the objective. Here the Khor bank was only one foot high.
On being shown the enemy positions Raider DAB quite regardless of his own safety opened fire with rifle grenades. Owing to the stony nature of the ground the butt of the rifle broke with the firing of the fourth grenade. In spite of the heavy fire Raider DAB slipped back into the middle of the Khor away from the little cover available, chose a sandy bed for his rifle butt and continued firing most effectively whilst lying out in the open completely overlooked by the enemy. Bursts were observed close to the enemy posts and the fire diminished considerably.
At this time the tactical situation on the right, owing to the arrival of heavy enemy machine guns caused a withdrawal. Before the withdrawal was completed, however, it was seen that one enemy light machine gun was out of action with dead round it. Owing to the difficult nature of the ground it was not possible to see the full results of the grenade fire.
Raider DAB by his coolness under fire, his devotion to duty, his disregard for his personal safety and the magnificent example that he set to all his comrades is deserving of an immediate award."
[Source: London Gazette 35250, page 4788.]
  On the same day Cator had all his Commando operating in five different groups as his task was to prevent enemy reinforcements interfering with an attack by 4
th
Indian Division. All the groups saw action, Raiders Urgar and Kramer on a Bren gun destroying an Italian light machine gun team, whilst on another patrol Sergeant Stanley got into a hand to hand fight and killed his opponent with his Fanny knife.   The Commando was in action for 24 hours drawing two enemy battalions away from the Divisional attack; the Division did gain ground but could only hold it for the next few days as the problems of casualty evacuation and resupply of ammunition, water and food were immense in the rugged mountains that were being fought over.   Eight days later 51 Commando was in action again on Mount Samanna tasked with infiltrating enemy positions to destroy machine gun posts. The Italians were cleared off a couple of hills but the enemy used his artillery accurately against Commando Headquarters and Cator, now a Lieutenant Colonel, was wounded by a shell splinter and evacuated. The Commando Second in Command, Major C.D.O. Miller, 10
th
Hussars, took over and received promotion.   On 25
th
March the final big battle in Eritrea took place and the Commando successfully supported the 9
th
and 10
th
Brigades of the Fifth Indian Division when they seized the Keren battlefield; two weeks later all of Eritrea had surrendered to the Allies and 51 Commando was feeling exhausted.  
Abyssinia
After recuperating during April, 51 Commando was moved to Abyssinia at the end of the month and tasked with taking an un-named feature during the battle of Amba Alagi. The hill was both difficult to attack and to maintain a position on because of its steepness and it rose 4,000 feet high.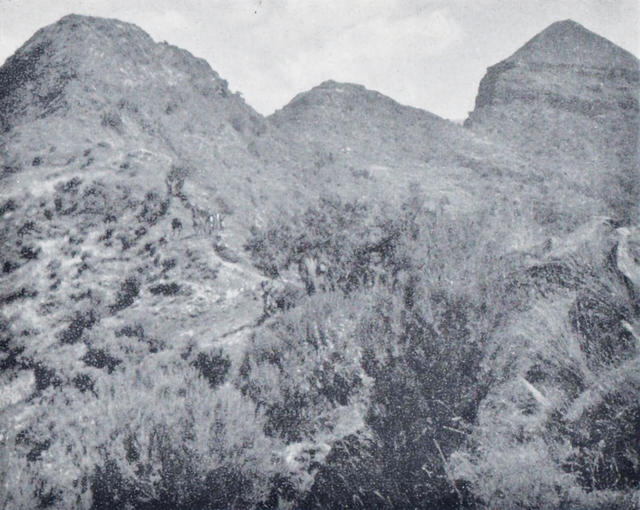 Lieutenant Colonel Miller wrote:
"The hill was so precipitous and rough that movement by night was difficult, while to climb slowly upwards by daylight would have been impossible in the face of enemy fire.
To add to the difficulties the final upper part of the hill consisted of a cliff which certainly could only be attempted in daylight."
  But the feature was taken and quickly dubbed Commando Hill. The first man onto the summit was Captain John Lapraik and for his boldness and determination he was awarded an Immediate Military Cross.  
MC citation for Captain John Lapraik
"On May 1st the 51st Middle East Commando was ordered to capture Commando Hill. Captain Lapraik went first during the climb, he was the first man to gain a footing on the top and by at once engaging the enemy with his revolver enabled the unit to gain a first footing over the shelf of rock at the summit, which they were subsequently enabled to exploit.
On May 3rd during an attack on the Falaga Pass he showed the greatest dash and daring in seizing a position with his troop remaining there under heavy fire until ordered to retire. He has shown consistent courage and leadership both during the battle of Amba Alagi and at Cheren."
[Source: London Gazettes Supp. 35250, page 4787]
  Another act of gallantry that day was performed by Raider Sandor Landler (PAL/10074)  who was awarded a Military Medal. His citation depicts the heavy and vulnerable work involved in casualty evacuation.  
MM citation for Private Sandor Landler
"On May 1st 1941 Raider Landler went forward with his Troop to take part in a night attack on an enemy position astride Falaga Pass. The Troop in which he was serving achieved their objective under very heavy machine gun and mortar fire. His Troop Commander was wounded in both legs by a mortar bomb. Raider Landler undertook the dangerous and arduous task of carrying his Troop Commander down a precipitous hillside under very heavy fire. At every sound made, a machine gun opened close-range fire.
Raider Landler with the greatest courage and disregard of personal danger, although exhausted, continued to carry his Troop Commander and would not leave him, voluntarily undertaking an arduous spell of duty as stretcher bearer. He further displayed great courage and disregard of danger during the capture of Commando Hill on May 1st when despatched as a messenger under heavy fire." 
[Source: London Gazettes Supp. 35250, page 4788, surname amended from Lendler to Landler in LG Supp. 37184, page3760]
Life for the Raiders holding Commando Hill was difficult and water, ammunition and supplies had to be hauled up the final vertical stretch using a rope anchored to a stunted tree near the summit. The hill could be observed by Italian artillery officers and the Raiders holding the forward slope had to be withdrawn to fire positions behind the crest to reduce the number of casualties.
A Pathan company of the 3rd Battalion of the 12th Frontier Force Regiment came up in support of the Raiders on the following day and assisted in repelling Italian counter attacks. The following night the Commando moved across the road to the west and took Wireless Hill; occupation of this feature denied Italian observation parties from seeing Allied traffic approaching Falaga Pass.
When a British attack on Falaga Pass was put in on the night of 3rd-4th May in which 51 Commando was involved, a platoon of the Frontier Force Regiment stood its ground and provided covering fire when the Raiders withdrew whilst carrying casualties. Havildar (Sergeant) Mir Hassan of the Frontier Force Regiment was awarded the Indian Distinguished Service Medal for this action.  His citation is shown in Appendix 2 to this article as it illustrates the ground being fought over and the tactical considerations that had to be applied.
The Falaga Pass was seized on the 8-9 May when the Commando found that the Italians had withdrawn from their defensive positions. 51 Commando continued to support British attacks with patrols, ambushes and diversions until 16 May when the Italians at Amba Alagi requested an armistice.
Then in mid-June, after a recuperation period at Adi Ugri, the Commando was moved to the Gondar area of Abyssinia where Italian resistance remained strong. Heavy rains fell hampering British attacks and during this period the Commando patrolled aggressively and incessantly against enemy outposts until it was moved to Adowa in mid-August, remaining there throughout September. Gondar was surrendered to the Allies in November and the campaign in East Africa ended.
nb. Private M. Fischer (PAL/10750) who died on 13 May 1941 and is buried in Asmara War Cemetery, Eritrea, and Private Werner Osterman (PAL/10272)  who died on 23 August 1941 and is buried in the Hebrew Plot of Asmara Civil (St. Michele) Cemetery, are shown on the Commonwealth War Graves Commission records as being in 51 Middle East Commando. Whether they died of wounds after fighting in Eritrea or Abyssinia is not known.
The end of 51 Middle East Commando
51 Commando returned to Egypt to be sent on leave and then it re-grouped to find that the three Middle East Commandos were amalgamated (50 and 52) or disbanded (51). They had no Brigade HQ to fight paper battles for them and there were now other attractive units such as the Long Range Desert Group and the Special Air Service for Generals to enthuse about. A new Middle East Commando was proposed with two troops to be composed of former members of 51 Commando; but the project was not easy to maintain and the hard core of 51 Commando began to dissipate.
Some Raiders returned to 601 Palestinian Company AMPC, others returned to Palestine as civilians. A small group of fluent German speakers was posted to a Special Interrogation Group (SIG) where they were destined to wear Africa Korps uniforms and drive trucks containing Allied soldiers masquerading as prisoners through German lines on the ill-fated raid on Tobruk in September 1942. There were few if any SIG survivors from that debacle. Elsewhere small groups of former Raiders survived in other Special Forces units; two of these men were later buried in military cemeteries in Tunisia, one in Enfidaville and the other in Sfax.
Interestingly some former Raiders who had returned to Pioneer Corps duties got a chance to be Commandos again when No. 2 (Army) Commando, then in Italy, needed replacements for casualties and began recruiting.  Those Raiders who joined them went onto serve in Italy, the Balkans and the Adriatic, proudly wearing the green Commando beret.
51 Middle East Commando was a successful unit. The Commando did what it was good at on operations in East Africa where the mountainous terrain dictated the employment of physically strong, well-disciplined and highly motivated troops who had the courage to infiltrate enemy lines carrying only light scales of weapons and equipment. The Commando took the fight to the enemy whenever possible and it made an outstanding contribution to victories at the battles of Keren and Amba Alagi.
51 Middle East Commando deserves far more recognition than it currently receives.
(This article was written by Harry Fecitt MBE TD (ex-68 Company, Royal Pioneer Corps)
---
Appendix 1
The Roll of Honour for the Commando can be viewed here 51 Middle East Commando Roll of Honour.
---
Photographs of some of the Raiders can be viewed here in the Commando Veterans Archive Gallery.
---
A Memorial to 51 Middle East Commando was built in Israel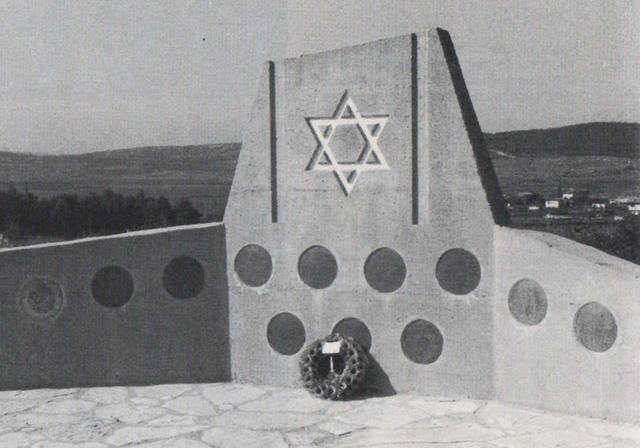 Map of Keren and Amba Alagi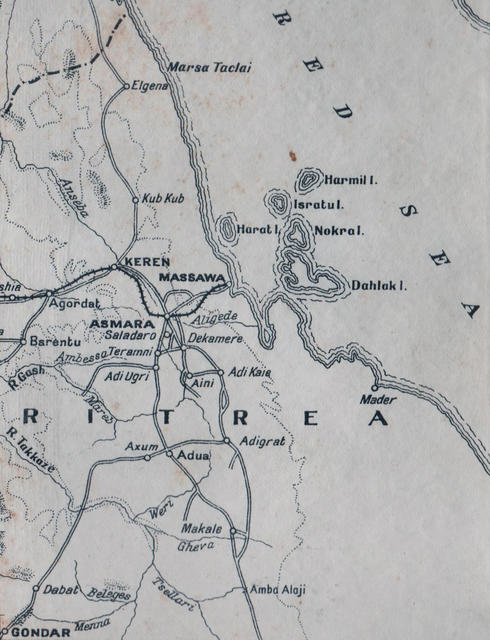 ---
Appendix 2
Citation for the Indian Distinguished Service Medal awarded to No. 9136 Naik (Acting Havildar) Mir Hassan, 3rd Royal Battalion (Sikhs) 12th Frontier Force Regiment.
"Amba Alagi.
On 4.5.41 Havildar Mir Hassan was given the role of protecting the right flank and rear of the 51 (ME) Commando, during a night attack on the Falaga Pass, and in order to carry out his role he had to make good a difficult spur. In the event of the attack not being successful he was in conjunction with another platoon to act as rearguard, until such time as the Commando had gone through.
He made good his objective by 2200 hours, and held it throughout the night, despite the fact that the enemy in superior numbers were converging on him from three sides. The Commando attack did not succeed, and there was great delay in getting back the wounded, and they had not passed through until well after dawn. Before dawn a determined counter attack was launched on Mir Hassan's position, and fierce hand to hand fighting ensued for an hour. A message which never reached him was sent ordering him to retire as soon as the Commando had gone through, and it was not until half an hour later that a runner was able to reach the position and give him the order to withdraw. Early in the action Mir Hassan was shot through the right arm, but he refused attention and continued to organise his sections and evacuate the wounded in the most exemplary manner until the final withdrawal, which he carried out in perfect order. It was due to the personal gallantry and fine fighting spirit of this NCO that his object was so well achieved, against overwhelming odds; a subsequent reconnaissance of the scene of the action revealed that enemy casualties were six times greater than his own.
His position on a spur, sloping down from the enemy's main position, and their numbers as well as the ground, weighed heavily in the enemy's favour. His use of ground coupled with his coolness and determination, and above all his magnificent example in such a grave situation, undoubtedly saved the day, and is deserving of the highest praise."
[Source: London Gazette 35250, page 4788.]
  nb. Mir Hassan also received the higher award of The Indian Order of Merit, 2
nd
Class, for an earlier action at Keren on 22-23 March 1941.
[Source: London Gazette 35221, page 4110.]
  He was indeed a warrior.  
---
Additional Sources:
Anonymous. The Tiger Strikes. (Government of India 1942).

A.J. Barker. Eritrea 1941. (Faber and Faber 1966).

W.E.H. Condon, Brigadier. The Frontier Force Regiment. (Gale & Polden 1962).

Michael Glover. An Improvised War. The Ethiopian Campaign, 1940-1941. (Leo Cooper 1987).

C. Hilliman. Looking Back at 51 Commando. Article in The Pioneer journal, No. 132, September 1977.

Charles Messenger. The Middle East Commandos. (William Kimber 1988).

S.O. Playfair, Major General. History of the Second World War. The Mediterranean and Middle East. Volume I, The Early Successes against Italy. (Naval & Military Press softback reprint).

Bisheshwar Prasad (General Editor). East African Campaign 1940-41. (Pentagon Press reprint, India, 2012).

E.H. Rhodes-Wood, Major. A War History of The Royal Pioneer Corps, 1939-1945. (Gale & Polden Ltd, 1960).

William Seymour. British Special Forces. (Grafton paperback 1985).

G.R. Stevens, Lieutenant Colonel. Fourth Indian Division. (Naval & Military Press softback reprint).

War Diaries of 51 Middle East Commando October to December 1940. (National Archives reference WO 218/162).
---
Ask Questions / Add Information / Add Photos
Use the Archive Forum for research enquiries, or to add information or photos. [register now]. 
Photos will be reviewed and added to the Archive if appropriate. 

Read some frequently asked questions here 

[FAQ's].
All content is researched and administered by the Commando Veterans Archive. 
---