Dieppe - Operation Jubilee
Primary tabs
Date commenced:
Wednesday, August 19, 1942
Location
Dieppe
France
49° 55' 22.8" N, 1° 4' 39" E
Combined Allied Force from all three Services. The Commandos had specific tasks outlined below in support of the main allied Force. The photo above and below show Commandos returning from the raid.
Operation Flodden - Berneval 
No. 3 Commando (including some 10 Cdo. Free French) was to land eight miles east of Dieppe to assault and silence the coastal battery near Berneval.  
Operation Cauldron - Varengeville 
No. 4 Commando (including some 10 Cdo. Free French and U.S. Rangers) landed a few miles west of Dieppe to assault and silence the coastal battery close to Varengeville.  
Harbour area
40RM Commando were assigned to assault and secure the harbour area.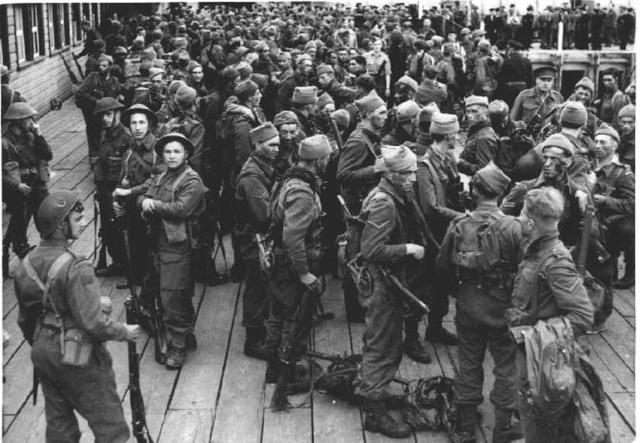 ---
Whilst No 4 Commando succeeded in their objective, No 3 Commando came under heavy fire managing only to pin down the battery making it ineffective during the main assault, rather than destroy it.     The initial assignment/role of 40RM Commando was changed during the action. The RM Commando were placed at the disposal of the Canadian GOC, Major General Roberts. After passing through White beach, they were to join the Essex Scottish, believed to be in the town. As the first of 40RM Commando landed they came under withering enemy fire and were ordered to re-embark within 10 minutes of landing.   The main assault failed and the Allies, particularly the Canadian Forces, suffered heavy casualties. The names of the Fallen below relate only to Commandos, and those who were attached to a Commando unit specifically for this raid.  
---
Follow this link for a partial 
Nominal Roll of Commandos at Dieppe
. (This excludes No 3 Commando and 40RM Commando as no such full list has been found however some additional names can be found by clicking on 'What Links Here' at top of this page.)  
---
Dieppe Commando Roll of Honour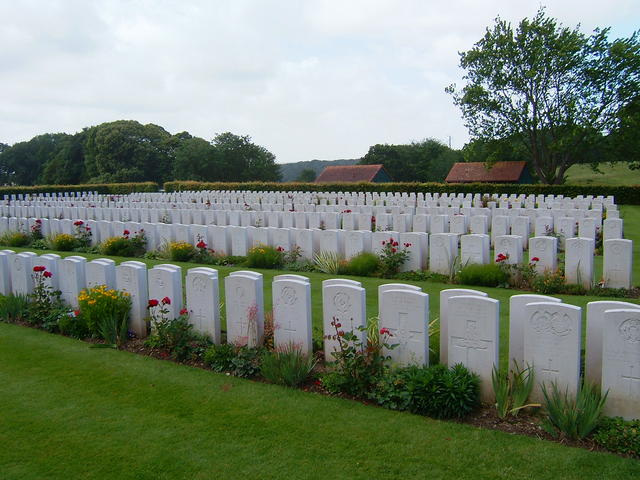 No.3 Commando 
Sapper Rex Adderley, 
Private Andrew Anderson 
Private Cyril Barrett 
Private John Bryan 
Private Fred Broadbent 
Private John Broster 
Gunner George Cooper 
Captain Samuel Corry
Private Douglas Fisher 
Corporal Thomas Gerrard 
Private Ernest Harding 
Lance Corporal Richard Harding 
Private Norman Harrison 
Private Leonard Jackman 
Lieutenant Peter Kenward 
Private John Lacey 
Private Edward Leddington 
Lance Sergeant Joseph Mills 
Lance Corporal Leslie Newell 
Fusilier Ernest Pickersgill 
Private Francis Rhodes 
Fusilier Thomas Sharp 
Sergeant Fred Teasdale
Gunner Hubert Wadsworth
Gunner William Wall 
No.4 Commando 
Lance Corporal John Bishop 
Private William Garthwaite 
Private Frederick Gooch 
Lance Corporal Edward Heckman 
Lance Corporal James Keenan 
Lieutenant John Macdonald 
Private Stanley McGann
Lance Corporal Duncan Thompson Mercer
Lance Corporal Alexander Mills 
Lance Corporal John Moss ( served as Taylor) 
Captain Roger Pettiward 
Private George Sutton 
Signalman George Tucker 
Rifleman Joseph Watters 
Lance Corporal John Whatley 
Guardsman Jack Whittaker 
No. 40 Royal Marine Commando 
Marine John Alexander 
Sergeant Jack Beesley 
Marine Arthur Callow 
Marine John Catterall 
Captain Alan Comyn 
Corporal Alfred Duerden 
Corporal Henry Everall 
Marine Eric Gotts 
Colour Sergeant Frederick Harwood 
Corporal Albert Heath
Marine John Mackinstry 
Corporal Norman McDonald 
Lance Corporal Henry Morgan 
Marine Samuel Northern
Marine Peter Orman 
Lieutenant Derrick Over 
Lieutenant Colonel Joseph Picton Phillips 
Marine Wallace Powell 
Marine William Rhodes 
Marine Albert Riddle 
Marine Ronald Singleton 
Corporal Thomas Thorp 
Marine Percy Walker 
Marine Harold Wigmore 
The following are believed to have served with 10(IA) Commando at Dieppe, and died on or just after the 19th August 1942. 
Corporal Serge Moutaillier (French) - wounded and pow, later executed 
Private Gustav Oppelt (Czech) 19th August 1942 
GHQ LIaison Regiment - Phantom patrol (assigned to Commandos)
Lance Corporal William Ley Craggs (attached No.3 Commando)
Royal Artillery - 1st Forward Observation unit (assigned to Commandos)
Captain James Howard Thomas (attached to No. 3 Commando)
United States 1st Ranger Bn (assigned to 3 and 4 Commandos or the 2nd Canadian Divn.)
2nd Lieutenant Edward Vincent Loustalot (attached to No 3 Commando)
1st Lieutenant Joseph Howard Randall, s/n. 0-418342 (attached Canadians) age 22.
Tech 4 Corporal Howard Murl Henry, s/n. 35125112 (attached Canadians) age 23.
We will remember them
---
Ask Questions / Add Information / Add Photos
Use the Archive Forum for research enquiries, or to add information or photos. [register now]. 
Photos will be reviewed and added to the Archive if appropriate. 

Read some frequently asked questions here 

[FAQ's].
All content is researched and administered by the Commando Veterans Archive. 
---