Commando Veterans Archive
Primary tabs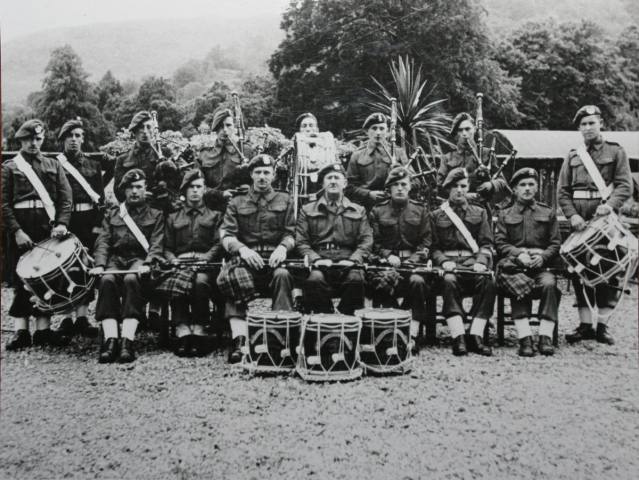 Welcome to our Commando Archive
If you are a Commando, a member of the Commando family, a friend of the Commandos, or simply have an interest in the Commandos, you are welcome to add to and enjoy the site. Please feel free to pay tribute, research or simply satisfy the curiosity that you may have about the proud history of the Commandos.
The Commandos
The first Commando units raised in 1940 were the Army Commandos. In 1942 these were then followed by the first Royal Marine Commando units. The Royal Navy and Royal Air Force also provided Commando personnel in WW2.
Research advice
Read our guide on research, service records, and how to explore our Archive
[more......]
. 
[Image above] Pipes and Drums Band of the Commando Depot (Commando Basic Training Centre), Achnacarry, with the Commandant Lt.Col. Charles Vaughan. The Band was also the Demonstration Troop at Achnacarry assisting the Instructors
[more.....]
.
Looking for Information?
We do NOT hold Service Records. If you wish to ask specific questions about Commandos, whether on individuals, units, campaigns, equipment, insignia, etc, then you should use our website forum. There you will be able to create a post in the relevant forum and add the many questions that you may have. Register on the Forum to add your messages or photos there.
Commandos 1940 to present day
Over 12,500 images in our Photo Gallery.

Over 7,500 commando personnel pages in our Personnel A-Z

[view.....]

.

A Forum to browse, ask questions, add content or photos.

Rolls of Honour;  Nominal Rolls;  Operation reports, and so much more.  
Commando History and Training
Whether you are considering a future military career in the Commandos, or simply curious,  you should make yourself aware of their history and the origins of their training. We dispel some common myths and detail the Commando historical timeline.
From their formation in 1940, when there were only Army Commandos, to the formation of other Commando units including the first Royal Marine Commando unit in 1942, their expansion in 1943 and 1944, and ultimately into the Commandos of today. 
Included are films about todays  'Pre Royal Marines Course', and another about WW2 Commando Training called "The Green Beret".  
World War 2 training history [view]

1946 to present day training history 

[view]

World War 2 Training image gallery

 [View]

. 
---
The Commando Roll of Honour 
Our Commando Roll of Honour contains details of over 2,780 Commandos who have died in service since their formation in 1940 to the present day. If you have photos of, or information about any Commando, or wish to have a name included, please post a message on our Forum with the details, or use the Contact Form and contact the Archive 
[Search the Roll of Honour]
. 
---
Obituaries
Do you have a name or photo to add? Register on our Forum and post the details with the date deceased, and include a photo if you have one. Or simply let us know by completing the Contact Form selecting the category for Obituaries. Someone will be in contact soon. 
[Go to form].
---
Lord Lovat Interview
The tape was kindly donated by Ray Brooks son of Ernie Brooks No 4 Commando, implemented by John Mewett, and converted to MP3 by Mike Thomas at Yellow Wall studios Lockington Liecs.
Listen to it HERE.
If your browser doesn't support HTML5 audio, right-click here and "save as" to download the file and play.
---
Ask Questions / Add Information / Add Photos
Use the Archive Forum for research enquiries, or to add information or photos. [register now]. 

Read some frequently asked questions here 

[FAQ's].
All content is researched and administered by the Commando Veterans Archive. 
---