40RM Commando
Primary tabs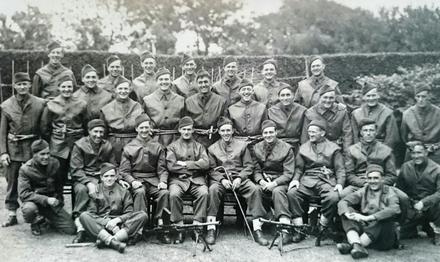 14 February 1942 initially designated as the 'Royal Marine Commando, Royal Marines'. Formation from volunteers commenced at North Barracks, Deal.
Commanding Officer Major (Acting Lt. Col.) J.P. Phillipps RM [more....].
Second in Command Captain (Acting Major) R.D. Houghton RM [more....]. 

When the call for volunteers for the Royal Marine Commando

went out to all Royal Marine trained personnel

, all ranks of the 8th Argyll and Sutherland Highlanders also became eligible to volunteer as they had been seconded by the Army to the 102nd Brigade RM since the end of 1940.

By the end of March 1942 the RM Commando had attained the full war establishment of 446 all ranks.

5 April 1942. The RM Commando moved to Scotland where it was sub divided into 3 Groups with Commando HQ and 'X Company based at Shiel Bridge Lodge about 3 miles from Dorlin House. Elements from each Company spent time at the Commando Training Depot at Achnacarry.

It was during this period that an independent detachment was formed and designated as 'T' Company for a special mission. They completed their training at Achnacarry. They had been selected to be part of the crew of HMS Fidelity for raiding operations. In December 1942. HMS Fidelity was torpedoed, sinking with the loss of all the 53 Royal Marine Commandos and other crew on board 

[more....]

. 

18 May 1942 Greenock. The RM Commando embarked HMLSI Princess Beatrix arriving Ryde, Isle of Wight, a few days later. From there they were billeted in homes at Shanklin, Sandown and Ventnor.

19 August 1942. The RM Commando (it had not been redesignated as 40RM Commando as yet although most post war writers use the new title) took part in the disastrous Dieppe raid. The main force of Canadians suffered worst with over 3,000 casualties, over 900 of whom were killed. Out of the 370 strong force from the RM Commando, 24 all ranks were killed and 76 wounded. The Commanding Officer was amongst the Fallen 

[Dieppe Cdo. ROH]

.

10 October 1942 formation of a second RM Commando.  Unit designations: 'Royal Marine Commando (A), Royal Marines'; and Royal Marine Commando (B), Royal Marines.' 

26 October 1942 Green Berets now part of dress for RM Commando (A).

November 1942 Royal Marine Commando (A) redesignated as No.40 Royal Marine Commando, Royal Marines. Captain J.C. Manners [more....] promoted Acting Lieutenant Colonel and Commanding Officer.
30 December 1942, HMS Fidelity torpedoed off the Azores [more.....].

13 June 1943 Commando embarks HMT Derbyshire at Greenock engaged in training using the ship as a base.

29 June 1943 HMT Derbyshire joins convoy and Commando informed destination is the Mediterranean.

9-10 July 1943 Commando in LCA's join 127 Flotilla for Operation Husky landings at Sicily.

17 July 1943 Augusta, Sicily, bombing attack on HMS Queen Emma

[more.....]

.

7- 9 September 1943 Messina, Commando embark LCI's for Operation Avalanche landings at Vibo Valentia.

3 October 1943 Manfredonia, Commando embark LCI's for Operation Devon landings at Termoli

[more.....]

.

12 October 1943 Termoli, Commando embarks LCI's for Molfetta via Manfredonia.

January 1944 Commando engaged in operations on the Garigliano front in Italy.

2 March 1944 Commando arrives at Anzio engaged in operations for most of the month.

28 March 1944 Commando returns to Molfetta, Italy..

4 May 1944 Bari, Commando embarks for Komiza, Vis.

5 May 1944 HQ established at Podselje, Vis.

29 May 1944 Burial service for Lt. B.P. Hill RM at Vis Naval Cemetery.

2 June 1944 Commando HQ, A, Q, and Y Troops embark LCI at Vis for Operation Flounced at Brac

[more....]

.

3 June 1944 Brac, Commanding Officer Lt Col. Manners

[more...]

killed during Operation Flounced.

1 July 1944 Lt. Col. R.W. Sankey, D.S.C. appointed Commanding Officer; Major P.R. Matters, second in command. Commando continues operations from Vis.

7/8 September 1944 Ghajn Tuffieha, Malta, training. Reinforcements arrive 7 officers and 160 OR's.

21 September 1944 Commando arrives at Monopoli, Italy.

24 September 1944 Commando moves to Otranto, Italy, and embarks LCI's for Albania (Sugar Beach and Sarande). Engaged in operations.

October 1944 operations in Albania continue.

13 October 1944 Lt Col. Sankey D.S.C., R.M., with Intelligence Officer and one section 'A' Troop leave for Corfu.

17 October 1944 Corfu, Lt Col. Sankey D.S.C., R.M., appointed Island Force Commander Corfu. Major P.R. Matters assumed command 40RM Commando. Capt. E.R. Cooper appointed Acting Adjutant. 'Y' Troop occupies area North of the island.

18 October 1944 Major P.R. Matters with 'Y' Troop and remainder of 'A' Troop arrive Corfu. 

12 November 1944 Commando arrives at Monopoli, Italy, from Corfu.

December 1944 Commando based at Turi, Italy, engaged in training and adminstration throughout the month.

6/7 January 1945 Commando moves to Taranto harbour and embarks for Corfu. Engaged on the island for the rest of the month in Troop patrols, training and adminstration.

12 January 1945 HQ established Hotel St George, Corfu Town. Troop dispositions 'A' Troop - Gastouri; 'P' Troop - Dhoukadhes; 'Q' - Kondokali; 'X' Troop -  ; 'S' and 'Y'  Troops - Katameri; 

31 January 1945 Commando Parade and Inspection by General Zervas on the promenade at Corfu.

22 March 1945 Ravenna, Italy, Commando relieves No.2 Commando, in Sector A1 engaged Line Holding.

1 April 1945 Lt. Col. De'Ath D.S.O., R.M. Commanding Officer. The Commando's final action, Operation Roast at Lake Comacchio, Italy

[more.....]

.

September 1945 - This month was largely devoted to Admin owing to the amalgamation of 40 and 43 RM Cdos., the sending of drafts to other Bdes and to HOC, and preparations for the final disbandment of the Unit.

12 September 1945, 40RM Commando and 43RM Commando were officially amalgamated whilst based at Tichbourne House, Alresford.

24 September 1945 the above amalgamated Commando units were redesignated a short while before disbandment as the 'Royal Marine Commando (2 Commando Brigade)'
---
​A new beginning
In the Spring of 1946, 45RM Commando arrived in the Far East to strengthen the only remaining Commando Brigade, 3 Commando Brigade.  In October 1946, after the disbandment of Nos 1 and 5 Army Commando units  (merged as No.1/5 Commando), the Brigade was then redesignated as 3 Commando Brigade Royal Marines.
On 16 March 1947 the then 44 Commando of 3 Commando Brigade RM was redesignated as 40 Commando, Royal Marines.  The intention being to perpetuate a Commando representative of the Dieppe raid and the Italian theatre of war, and to recognise their contribution to the Allied victory in Europe as with that of 45 Commando, combined with 42 Commando's contribution to Allied victory in the Far East.
Since then 40 Commando have served with distinction in many places including Palestine, Malaya, Cyprus, Suez, Brunei and Borneo and Ireland, the Falklands, and more recently Iraq and Afghanistan
[more......]
.
Primary sources
40RM Commando War Diary.
The Light Blue Lanyard , author Maj. J.C. Beadle MBE, MC, RM
[more....]
..
---
View our Gallery images of 40RM Commando
Click/touch 40RM Commando below for additional content, or follow the links below to specific content entries.
---
Ask Questions / Add Information / Add Photos
Use the Archive Forum for research enquiries, or to add information or photos. [register now]. 

Read some frequently asked questions here 

[FAQ's].
All content is researched and administered by the Commando Veterans Archive. 
---