43RM Commando
Primary tabs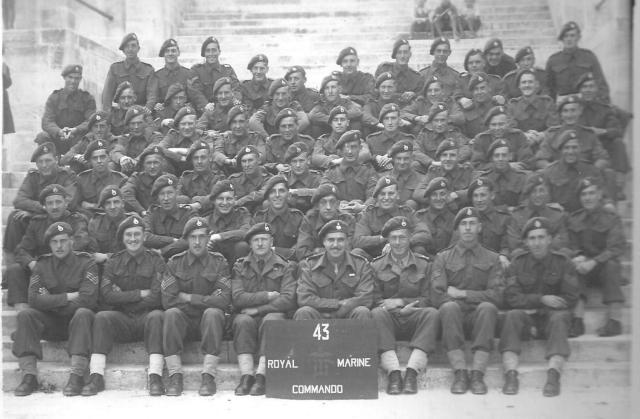 Formed from the disbanded 2nd RM Battalion as 43 Royal Marine Commando, Royal Marines, on the 1st August 1943 under the command of Acting Lieut. Colonel R.W.B. Simonds. Not all however would become Commandos. Converting the one hundred man companies of 2RM to sixty man troops of 43RM  meant many would not. Those who did not join the Commando were moved to other duties primarily in Combined Operations as  Landing Craft crew. Soon afterwards 43RM moved to Achnacarry for their Commando training at the CBTC. Once completed 43RM moved to Ramsgate.
In November 1943 they embarked for Algiers. The Commando now consisted of five fighting troops each 65 strong, four commanded by a Captain, one by a Major, and each with its own Troop HQ consisting of a Troop Commander, Troop Sergeant Major, a signaller, a RAMC orderly, the 2" mortar group and the PIAT (Projector Infantry Anti Tank) group. They were supported by a Heavy Weapons Troop of four 3" Mortars and four Vickers Medium Machine Guns.
Early January 1944 they embarked for Naples and moved to the village of Vico Equense. They were now part of No.2 Special Service Brigade commanded by Brigadier Tom Churchill. This Brigade consisted of Nos 2 and 9 Commandos (both Army) and Nos.40 and 43 RM Commandos. 
On 22 January 1944 43RM were part of the major allied offensive at Anzio. This was the beginning of a series of operational deployments in WW2. From the the action at the Garigliano River, Monte Ornito and Monte Faito
, to the Jugoslav
Dalmatian Islands
based operations from Vis, including Brac, Hvar, and other enemy held islands. In April 1945 their last action would be 
Operation Roast 
at Lake Comacchio and the Reno River.  It was here that Corporal Thomas Peck Hunter [more....] of 43RM Commando would be postumously awarded the Victoria Cross.
After the war ended dispersion quickly followed.  43RM was disbanded in September 1945. Some went to occupation duties in Germany. Others to 45RM or 46RM Commandos. Those who had been in longest were due for early demobilisation.
Nothing Much to Lose, author Lt. Michael McConville, 43RM Commando (
which includes a history of 2RM).
Commando Subaltern at War, Author Lt. W.G. Jenkins, DSO, 43RM Commando.
Later Commanding Officers
October 1944 Lieut. Colonel I. F. Macalpine (Black Watch) subsequently invalided out.
November 1944 Lieut. Colonel Ian H. Riches.
Reformed on the 5th September 1961 until disbanded again mid-November 1968.
In 2012 a new 43 Commando RM was formed.  Officially 43 Commando Fleet Protection Group Royal Marines, it is the largest in the Corps and is responsible for protecting the nation's nuclear deterrent as well as taking the fight to modern-day pirates in specialist boarding teams.
[Historical note former units - Comacchio Company Royal Marines (1980–1983), Comacchio Group Royal Marines (1983–2001) and Fleet Protection Group Royal Marines (2001-2012).
---
View our Gallery images of 43RM Commando
Click/touch 43RM Commando below for additional content, or follow the links below it to specific content entries.
---
Ask Questions / Add Information / Add Photos
Use the Archive Forum for research enquiries, or to add information or photos. [register now]. 

Read some frequently asked questions here 

[FAQ's].
All content is researched and administered by the Commando Veterans Archive. 
---