43RM Commando
Primary tabs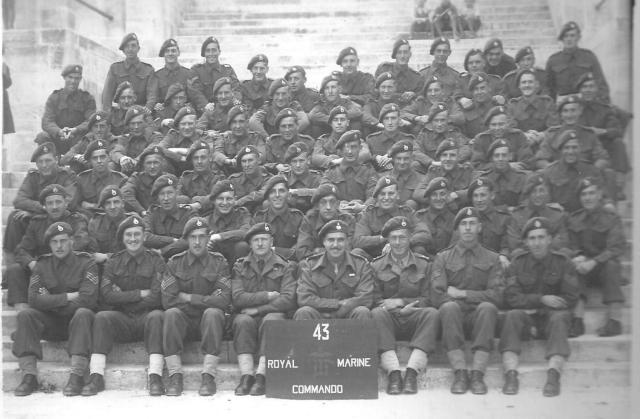 Formed from the disbanded 2nd RM Battalion as No. 43 Royal Marine Commando, Royal Marines, on the 1st August 1943 under the command of Acting Lieut. Colonel R.W.B. Simonds. Disbanded September 1945.
In World War 2, the Commando were involved in operations in Italy and on the
Dalmatian Islands
, including Brac, Hvar, and other enemy held islands. In April 1945 they fought in
Operation Roast
at Lake Comacchio and the Reno river.
Later Commanding Officers
October 1944 Lieut. Colonel I. F. Macalpine (Black Watch) subsequently invalided out.
November 1944 Lieut. Colonel Ian H. Riches.
Reformed on the 5th September 1961 until disbanded again mid-November 1968.
In 2012 a new 43 Commando RM was formed.  Officially 43 Commando Fleet Protection Group Royal Marines, it is the largest in the Corps and is responsible for protecting the nation's nuclear deterrent as well as taking the fight to modern-day pirates in specialist boarding teams.
[Historical note former units - Comacchio Company Royal Marines (1980–1983), Comacchio Group Royal Marines (1983–2001) and Fleet Protection Group Royal Marines (2001-2012)
---
View our Gallery images of 43RM Commando
Click/touch 43RM Commando below for additional content, or follow the links below it to specific content entries.
---
Ask questions / Add information
Use our Forum for research enquiries, or to add information or photos. [register now]. 
Your message will then be seen by our Research Group and the many knowledgeable members of our Forum. 

Read some frequently asked questions here 

[FAQ's].
All content is researched and administered by the Commando Veterans Archive. 
---