Special Service Brigade, Group, & Signals
Primary tabs
The Special Service Brigades were later renamed Commando Brigades.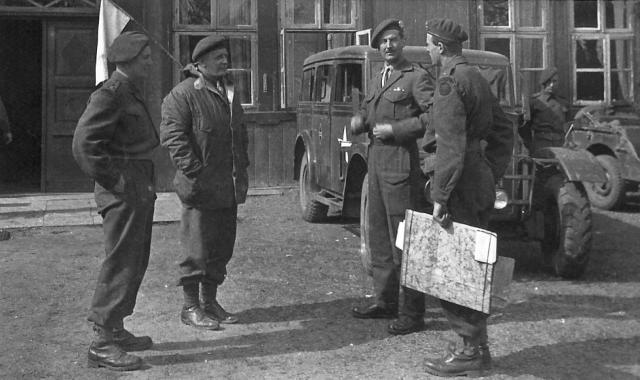 In 1940 there was only the Special Service Brigade, consisting of five Special Service Battalions and an HQ under the command of Brigadier J.C. Haydon.  The newly formed Army Commandos ( from the Special Service Bn's., and Independant Companies) then came under the command of the Brigade, and Signallers were a troop, divided into Sections, within it, along with other groups.
In 1943 after the introduction of the new RM Commando units, the single Brigade was replaced with four Special Service Brigades, each having several different Commando units operating within it.  The four new Brigades operated under the overall command of the Special Service Group under Major General Robert Grice Sturges, who can be seen in the above photo with Lord Lovat and Brig. Derek Mills-Roberts.
Commando signallers were addtionally attached to each of the respective Special Service Brigades. It should be noted that Signallers would be attached to where they were needed and this meant that on occasions RM Cdo Signallers would operate with Army Commandos and vice versa.
Nos. 1 and 4 Bdes operated in North West Europe; No. 2 Bde in Italy, Yugoslavia, and the Central Mediteranean area; and No. 3 Bde in Burma.
Officers and men from other units were often temporarily attached for specific operations to the Brigades either for their skills or knowledge.
More can be read about 3 Commando Brigade (click on link) in copies of the Third Jungle Book issued at the time they were overseas. We have several copies in this archive including Issue 9 which has a Roll of Honour for each Commando within the Brigade and a history of each of the Units that were part of the Brigade Headquarters.
CVA Gallery images can be viewed here: Special Service Brigade Gallery
---
Ask Questions / Add Information / Add Photos
Use our Forum for research enquiries, or to add information or photos. [register now]. 
Your message will then be seen by the many knowledgeable members of our Forum.
Photos will be reviewed and added to the Archive if appropriate. 

Read some frequently asked questions here 

[FAQ's].
All content is researched and administered by the Commando Veterans Archive. 
---