42RM Commando
Primary tabs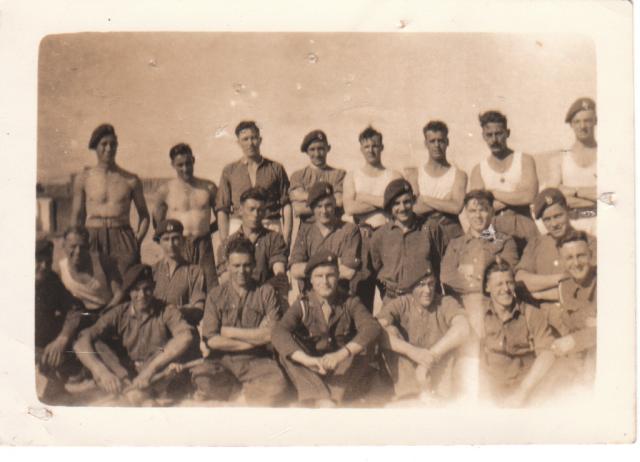 Formed as 42 Royal Marine Commando, Royal Marines, on the 1st August 1943 from the disbanded 1st RM Battalion.  Those not selected for the Commandos were posted primarily to Landing Craft duties. On the 5th October 1943 the unit attended the
CBTC
for Commando training.
After their training, the Commando moved for a brief spell in billets at Hearne Bay, before being transported by train to Gourock arriving on the 11th November 1943.  Embarking on HMT Ranchi they set sail for the Far East on the 15th November 1943, accompanied by No 1 Commando and 75 Nursing Sisters. 
During the journey they were attacked by enemy aircraft from Rhodes and after the ship was hit they diverted for repairs to Alexandria where the Commando spent Christmas camped at Sidi Bishr. The Commando then travelled from Port Tewfik to Bombay on board the ships  Scynthia and  City of London. They arrived at Bombay on the 20th January 1944 and then travelled onward by train to Kedgaon where
3 Special Service (later renamed Commando) Brigade
assembled.
After a stay at Kedgaon, the Commando proceeded by road to Castle Rock near Belgaum for training. On completion of this training the Commando moved to Cocanada. Soon the Commando was on the move again this time to Nilaveli Camp at Trincomalee where they remained for the next 3 weeks.
On the 3rd October 1944 the Commando embarked with No 1 Commando on board HMT Nevasa for Calcutta. From there they proceeded by rail and river steamer to a transit camp in Chittagong where they remained for a week. They then proceeded by LCI to Teknaf to relieve the 1st Ox and Bucks in the line at Maungdaw.
On the 2nd January 1945 the Commando embarked on board the ships Napier and Nepal for Akyab. The unopposed landing took place on the 3rd January with No.5 Commando and 42RM Commando  being the first ashore. A few days later they embarked on board HM Indian ships Jumna and Narbada for the assault on the Myebon penninsula on the 12th January. It was from Myebon that the Commando moved by LCA and LCM to Kangaw which culminated very soon afterwards in the
Battle for Hill 170
on the 31st January 1945.
Commanding Officers of 42 RM Commando.
Lt Col. Reginald Carteret de Mussenden Leathes, 31st August 1943 until he relinquishes command at Cocanada in May 1944.
Lt Col. Halford David Fellowes, May 1944 until wounded at Myebon and relinquishes command 13th January 1945.
Lt Col. H.H. Dales , 13th January 1945, was the 2i/c Major (promoted Lt Col), until hospitalised with dysentry and relinquishes command April 1945.
Lt Col. Peter William Cradock Hellings DSC,MC, April 1945 until cessation of hostilities.
---
Redesignated 42 Commando RM early in 1946, having been 42 RM Commando (Light) since August 1945. Postwar, the Commando operated in the far East, with combat operations in Malaya, Suez, Borneo and Brunei, and Northern Ireland, the Falklands, Iraq, and Afghanistan.
---
View our Gallery images of 42RM Commando
Click/touch 42RM Commando below for additional content, or follow the links below to specific content entries.
---
Ask Questions / Add Information / Add Photos
Use the Archive Forum for research enquiries, or to add information or photos. [register now]. 

Read some frequently asked questions here 

[FAQ's].
All content is researched and administered by the Commando Veterans Archive. 
---