45 Commando RM
Primary tabs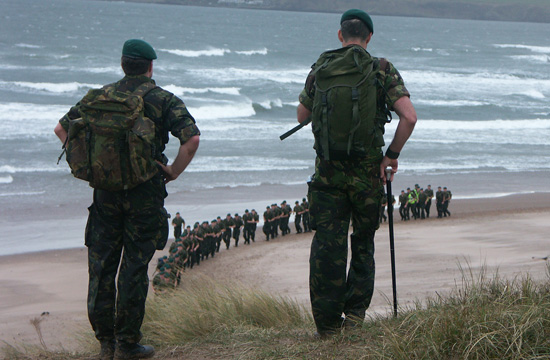 Formed as 45 RM Commando in August 1943 from the disbanded 5th RM Battalion. World War 2 operations included the Normandy landings and the crossings of the rivers Rhine, Weser, Aller and Elbe. Redesignated 45 Commando RM in March 1946.
The post-war years saw the Commando deployed on operations to Palestine, Suez, Malaya, Aden and Cyprus. The Commando finally returned to the UK in 1967 after 24 years operational service abroad and moved to its current base in Arbroath in 1971.
Since then they have been deployed in Northern Ireland, and, in 1982, the Commando took part in Operation Corporate, the recapture of the Falkland Islands. In 1991 the Commando deployed to Northern Iraq on a humanitarian assistance mission and in 1994 it was dispatched to reinforce the Kuwaiti border against renewed Iraqi aggression. More recently the Commando has been deployed on operations in Afghanistan.
---
Register on the Forum to make Research Enquiries. By this method your enquiry will come to the notice of our Research Group and the many knowledgeable members of our Forum.
All content researched and administered by the Commando Veterans Archive www.commandoveterans.org 
---
Association Membership
Registering on the Commando Veterans Archive, or on the Commando Veterans Association Facebook page, does not make you a member of the Association. The Commando Veterans Assciation needs your support and membership. Find out more here.