41 Independent Commando
Primary tabs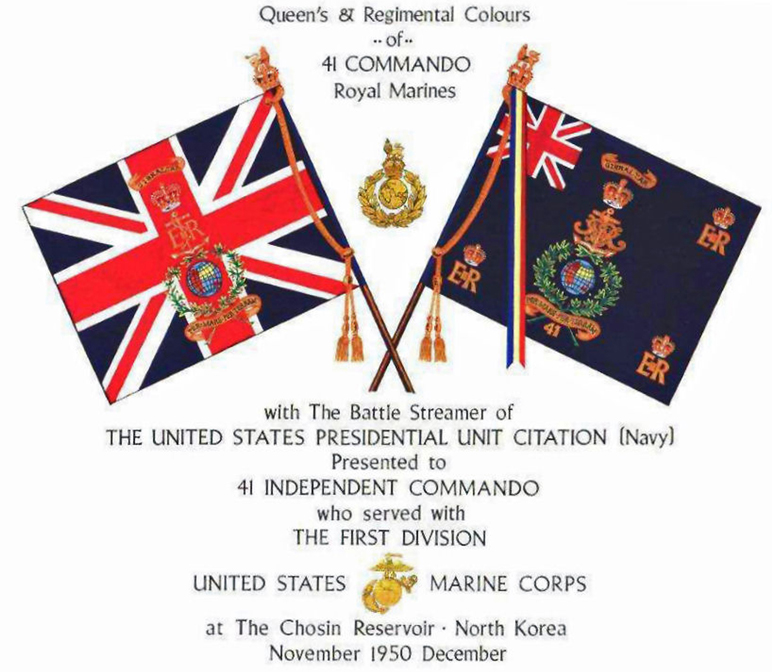 In October 1942 the 8th RM Battalion was disbanded and those who volunteered for, and passed the training, formed a new 41RM Commando.  The Commando saw service in WW2 at Sicily and Salerno, Normandy and Walcheren, and the advance through Holland into West Germany. At the end of the war 41 RM Commando was disbanded.
In August 1950 a new 41 Independent Commando was formed at Bickleigh specifically for the war in Korea.  It was completely equipped by United States forces on its arrival in Japan and was commanded by Lieut. Col. D.B. Drysdale DSO, OBE, RM,  in the first instance, and later by Lieut. Col. F.N. Grant RM.
During its service in Korea the Commando carried out a number of successful amphibious raids on the Korean coastline, chiefly with the object of destroying the coastal communications. At the same time it succeeded in tying up large Communist forces in coastal defence. When the Chinese entered the war the Commando was attached to the 1st US Marine Division USMC, and it took part with this Division in the historic breakout from the Chosin Reservoir in December 1950.
41 Independent Commando was disbanded in February 1952, but in 1957 it was awarded a United States Presidential Unit Citation for services with the 1st Division United States Marine Corps seven years earlier at the Chosin Reservoir,  North Korea.
In 1960 41 Commando RM was reformed and saw service in Northern Ireland and with the UN Forces in Cyprus until it was again disbanded in 1980.
The Commando Roll of Honour for Korea [View here]
---
Register on the Forum to add a comment, or make Research Enquiries. By this method your enquiry will be seen by our Research Group and the many knowledgeable members of our Forum. Read some frequently asked questions here
[FAQ's].
  All content researched and administered by the Commando Veterans Archive
www.commandoveterans.org
---
Association Membership
Registering on the Commando Veterans Archive, or on the Commando Veterans Association Facebook page, does not make you a member of the Association. The Commando Veterans Assciation needs your support and membership. Find out more here.