LEA, Charles William
Primary tabs
Died :
Thursday, September 9, 1943
Killed in action or died of wounds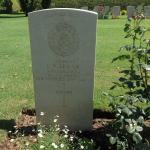 Lieutenant Charles Lea GM was killed in action at Salerno.
From the No.2 Commando War Diary for the 9th September 1943:
"Nos. 1 & 5 troops operating against the Western exits of Salerno began to meet increasing opposition. The enemy was evidently trying to break out of the town Westwards towards Vietri, and about noon, a Tank (Mk.IV) made its appearance in front of the two troops of the Commando. Some casualties were caused by the tank until it received two direct hits at 900x from one of the 6 pounder A/Tk guns of the 73 A/Tk Regt. which had been moved up on Lt. Col. J.M.T.F Churchill's orders. This may have jammed its turret. It retired into Salerno and did not reappear. A second tank was hit twice by a Piat fired by Capt. Henderson. Lieut. P. Lea GM, RE, was killed by one of the tank shells, and was the first fatal casualty in No.2 Commando. The shell burst in the branches of a tree above him, and a fragment hit him on top of the head. He was not wearing his helmet. Four OR's were wounded at the same time, also some men in a patrol from No.2 troop immediately afterwards."
Citation for the George Medal awarded in 1941.
Gazettes : St. James's Palace, S.W.1. 
30th September, 1941. 
The KING has been, graciously pleased to approve the award of the George Medal, in recognition of conspicuous gallantry in carrying out hazardous work in a very brave manner.
Awarded for actions at Loving Hall, North Cray, Kent on the 28th October 1940 and Johnson Road, Bromley, Kent on the 9th November 1940.On the 9th November 1940, a German plane crashed on houses, trapping residents. Due to a delayed action bomb, rescue work was hampered. This task would normally be given to the RAF as it is their remit to remove bombs on or near aircraft. However, Capt Lea was tasked. He arrived at 22.45 hours. Thirty bombs were found in and around the aircraft. To add to the risk the aircrafts fuel was spread around the area. With skill and courage Lea recovered and made safe all bombs. Allowing rescue work to continue. For this and work on a parachute mine in Sept. Capt Lea was honoured with the George Medal. [source: Royal Engineers BD/EOD website}
Photo of grave in Gallery:
---
Add your information
Register on the Forum to add information, or photos, or to ask questions [register now]. 
Your message will then be seen by our Research Group and the many knowledgeable members of our Forum. 

Read some frequently asked questions here 

[FAQ's].
All content is researched and administered by the Commando Veterans Archive. 
---