2 Commando, Sarande, Albania
Primary tabs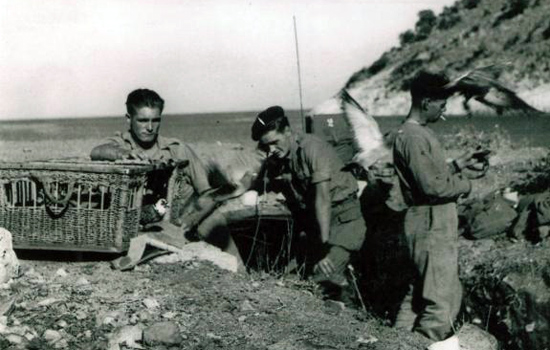 Operation Mercerised
"No. 2 Commando landed once again in Albania. Sept. 22 1944 was the date, almost two months after they had conducted their raid at Spilje. This time their objective was to be the capture of the Albanian town of Sarande, a port through which German army units (which had been involved in the occupation of Corfu and mainland Greece) were now withdrawing. No. 2 Commando operations began with their landing at a beach about six miles north of Sarande. It soon became apparent that the only road that No. 2 could use to approach their attack positions at Sarande was covered by in excess of 20 artillery positions which quickly went into action against the leading troops.
At about the same time as the attack force of No. 2 had become stalled, Col. Fynn received another piece of 'cheerful' information. It seems that 'intelligence' had determined that the German defenders of Sarande numbered 200 soldiers. What Colonel Ted was later advised was that (oops!) we dropped a zero, please read 2000 Germans in the place, instead of 200! Non-plussed, Ted asked for more help which duly arrived on Sept. 24th in the form of the veteran fighters of No. 40 R.M. Commando.
The now combined force of No. 2 and No. 40 Commandos battled on through atrocious terrain and monsoon-type weather conditions. The town of Sarande fell after a bitterly-contested battle on the afternoon of October 9th, 1944. After the fall of Sarande, the German garrison of Corfu had no place to go and some white flags were seen from just across the strait. About three troops of No. 2 Commando and No. 40 went over to Corfu in mid-November and took the surrender of the island's German garrison. After a brief sojourn, No. 2 returned to Italy.
Because this author had been sent off on other business from No. 2 Commando prior to the operation at Sarande, the events describing this engagement were obtained from his perusal of the 2 Commando War Diary. It is sadly noted that the reading of that document included the names of: 
who had fallen in the battle for Sarande."
nb. The above  account is part of the overall history of No 2 Commando by Bob Bishop No 2 Cdo.
---
Read more in our Commando Actions section here Operation Mercerised.
---
Ask questions / Add information
Use our Forum for research enquiries, or to add information or photos. [register now]. 
Your message will then be seen by our Research Group and the many knowledgeable members of our Forum. 

Read some frequently asked questions here 

[FAQ's].
All content is researched and administered by the Commando Veterans Archive. 
---