BUCKMASTER, Eric, Memories of No 2 Commando
Primary tabs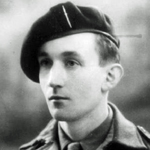 Over the last few years Eric Buckmaster, No 2 Commando, has been a wonderful help to this Archive by providing information in response to our many questions, not only about those who served with him in No 2 Commando 5 troop, but also in providing other more general information about events and places. 
Eric served alongside his brother Stanley Buckmaster
[more...]
in 5 troop. Here are some extracts from a few of his responses.
Joining No 2 Commando 5 troop
"The majority of the key members of 5 Troop came from Liverpool, Birkenhead, and Warrington. It was known as the Scottish Troop, because initially it had a large contingent of Liverpool Scottish, plus members of other Scottish Regiments.
Although I am a Cockney from the East End of London, I got into 5 Troop because I was part of the intake trained to replace those lost at St Nazaire, March 1942. The RSM asked for all Scotsmen to step forward. There were only 6 men in that intake who qualified, but he wanted 7 so he asked for a volunteer, and that is how I got in.
After Salerno when again we needed replacements, my younger Brother Stanley joined us, he had been through the North Africa Campaign, and stayed with me in 5 Troop for the remainder of the War."
No 2 Commando cap badge.
"When 2 Commando was first formed the Tam O' Shanter was our Unit headgear. When I joined them mid 1942 after St Nazaire, that is what I wore initially. However the CO had adopted the Fighting Knife as a standard hat badge, and we had shoulder flashes which were the Fighting Knife with SS on either side of it. We were issued the Flashes, but the hat badges were not at that time on issue, they had to be made by ourselves.
I joined 2 Commando very late one night in Boscombe, Bournemouth. When I got to my billet I was met by one of the lads from HQ Troop, who showed me to my room, gave me my Tam O'Shanter, and also gave me a teaspoon and said you can make your hat badge out of that. We had to file the fighting knife badge out of the teaspoon with a nail file. We sewed them on to our hats with a loop of cotton round the handle, and another loop under the haft. Some time later they actually issued the hat badges as a general supply for 2 Commando." 
Driving Trains and Mining in Ayr
"As part of our Training whilst in Ayr, some of us were sent to drive trains, some of us were sent down coal mines. I was sent down the Auchencruive Pit in Ayrshire which ran some 2 miles under the sea. A long part of the tunnel was no more than 4' 6" high due to the presence of a long seam of hard " Whin Stone ". How men were able to traverse that each day before starting work I don't know."
Exercise on board HMS Keren.
"There is a photo headed No 2 Boys on HMS Keren.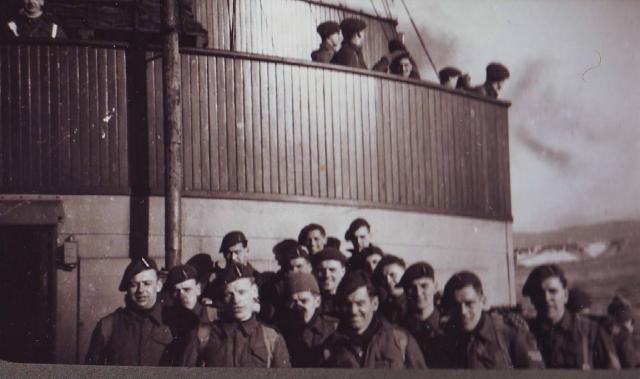 This was an excercise that we went through in November 1942. We embarked at Greenock on to one of the Island's Ferry's - Macbraynes of the Highlands - and sailed among the Islands in the mouth of the Clyde. We disembarked at " Tighnabruiach ".
We then marched over the hills to the bottom end of Loch Fyne, where boats picked us up and put us on board HMS Keren. Later that day we embarked on Landing Craft operated by Americans and were landed at the top end of Loch Fyne for a night exercise. This was carried out. 
However, the American's came to collect us afterwards too late, and the tide ran out of the Loch and their landing craft were stranded high and dry. It's not too warm up there in November, and we spent our time moving about trying to ignore the cold until daylight and the return of the tide. Some few managed to light small fires to try to keep warm.
We finally got back to the Keren in time for breakfast, and some rest.
During the following night the weather was a little rough, and one of the ship's boats which had been tied alongside, broke loose and at high tide was beached high on the rocks at the side of the Loch. Captain Dickie Broome
[more...]
and about a dozen of us were detailed off to go to help the sailors get their boat off the rocks and refloated. They were using baulks of timber and pulleys lashed around large nearby trees. but the keel of their boat was very firmly lodged in the rocks. From information printed on the side of the boat it weighed some 10 Tons.
My earlier RASC training came in useful. We made enquiries about the nearest Transport Unit , and Capt. Dickie Broome and I were shipped about a mile up the Loch and we borrowed 6 jacks of the type that were used to lift the Army 5 ton trucks. With these properly placed we were able to get the boat lifted until the Keel was high enough to clear the rocks and the baulks of timber could be placed under it. Much to my disappointment, we never did see the Boat finally refloated.  Just at the crucial time, the Commando contingent were called back to the Keren in order to be shipped back to Ayr.
Sorry to have told you the tale of the old 'Iron Pot '. My reason for mentioning the Keren Photo, is that the No 1 man in the picture, front row left is Joe Slater, and the No 3 man is Ernie Hurst, both 5 Troop."
No 2 Commando on board HMT Dunnottar Castle to Gibraltar.
"I was most pleased to receive your note and the lovely photograph of the old boat. I was amazed to learn that she had continued in service as a Cruise Ship until 2004. It appeared relatively old to us in 1943, although there was nothing of the Cruise Liner about it when we were on board.
It was set out in Mess Deck Areas at different levels. Officers,& Sgts & WOs. were housed separately. Each dwelling area for Other Ranks, had some 20 very sturdy fixed wooden tables, with forms. Men were allocated to given mess tables which had a limited number of steel/iron dishes and kitchen utensils. Each table would hold about 20 men ( 10 per side). We slept in sailing ship type hammocks, which had to be slung above or around the Mess Tables. Some few had mattresses for any floor spaces. Everything had to be taken down and stowed away in side bins for the Captain's rounds each day. The impression of it has always stayed with me. It was like living in a 'Greasy Spoon' .
Two men from each mess table were responsible each day for going to the Stores below decks, to draw the food for the day. Vegetables had to be peeled etc. Then it was taken down to the Galley where they cooked the parts of the meal that needed to be cooked. Then you had to get your own trays back, and the two men on duty each day had to make sure that each man got his share, and then had to wash up their tables and dishes & utensils. Cleaning cloths & soap were almost non existant.
Can you imagine the contrast for volunteer rather spoiled soldiers, who had lived in civilian billets for some time, with Landladies who made the porridge for breakfast or provided meals during the day when required !
Officers & NCOs had waiters, men who volunteered for the task and probably found it a cushy number.
With so many men needing Facilities !!!, the loos were timber platforms along the whole of each side of the Ship, with appropriate holes cut out for the seats. They projected out over the sea, and one always felt a bit precarious. You had to climb up on to them, and if you looked down you could see the water rushing by below. There was some screening but not much privacy.
We embarked one lunch time, and set out from the Clyde during the evening, sailing past the North of Ireland. A huge Convoy of some 40 ships, a very motley collection of boats, with three Destroyers in attendance.
It took us nearly 6 weeks to get to Gibraltar, I imagine because we were following diversionary routes planned or plotted to avoid submarines. At one stage it was said that we had almost reached the Coast of America. How true this was I don't know.
One thing I do remember is that on the first night out, quite a number of people were a little upset by the motion of the ship, and the Galley served up Tripe for the evening meal. Some just didn't want it. I was very lucky, in that the sea motion did not affect me very much and I was hungry. I got about three men's portions of Tripe and slung my hammock that night very replete.
There was all sorts of stuff stacked around the Decks, but there were some spaces and weather permitting we trotted around in the spaces available, and or climbed the ship's lifting derricks for exercise."
Food Rations
"This is not a moan, but an observation, in our experience Commando soldiers did not often fare over well when it came to feeding. This was partly due to the inadequacies of the British army specifications on food, and partly due to lack of experience. Jimmy Smith confided to me one day that he had managed to burn the Tea !
Wherever you did not have a Cookhouse or Catering Section, you were dependant upon what was issued to your Unit or Section. The Containers were not synonymous with each other. A tin of beans might be shared between 6 men. A tin of bacon between 10 men, a tin of sausages between 8 men. The tins would be boiled up in a Dixie, and issued hot when thought to be ready. They had to be opened, and then matched with the numbers of men for each tin. Someone invariably went short of something.
On the Island of Vis, where we were dependant upon Boats getting over, we were often very hungry. On one occasion we captured two German Schooners full of various kinds of produce, intended for their Island Garrisons, Flour , pickles, tubs of fresh butter. We lived well for a week or two. Most of the Flour was given to the Partisans, and a baker made them bread, but they preferred the dry tack biscuits that we were given, and they used to come and ask us to swap with them, which we were happy to do.
It used to be said that in the American Army they had 7 ½ men to back up each member of the front line troops. With the British Army it was 2 ½ men. What ever may be the truth of it, on the matter of Food Rations they were better organised than us .
For a short period in Sicily, we were attached to the American 5th Army, to lead them in at Salerno. We were put on to American style rations. They had boxes of what were known as 5 in 1 Rations. Each box was allocated to 5 Men. It contained 5 packets of breakfast cereal, 5 pouches of preserved milk , 5 packets of biscuits, 5 little packets of cigarettes, 5 fruit juice, 5 chocolate bars. It was 5 of everything needed for the day. Also the combinations within the boxes were variable, so that you could have a different mix on different days.
To some of us it was heaven, but after only a few weeks some people were complaining that they wanted to get back on to proper British food. !!!."
Operation Healing Two - Spilje, Albania
Details on the photo below of 5 troop.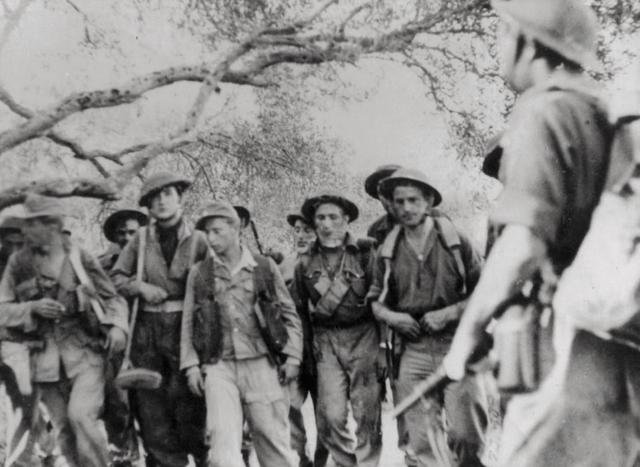 "The Commando between the 2 prisoners on the left is my brother Stanley, so 5 Troop were involved here although I cannot immediately remember the names and faces of the other lads present. I must be somewhere around that group, because Stanley was No 2 on my Bren Gun, and he's carrying his rifle in that picture. We were moving down towards the Harbour, so that our Landing Craft could come round from our up coast landing spot, to pick us up more easily.
Spilje is the place where each Troop was given a different location to attack . Ours was a steep hill with German slit trenches all across the top. We came ashore in the early hours of the morning and moved in some distance across country, and then we just sat and waited for dawn. The Germans must have been rather Jittery because all the time they were firing tracer bullets on fixed lines. When it started to get light, we climbed through some barbed wire, and then ran up that hill so fast that we literally overan the German positions and Capt. Turner was reduced to calling " Come back Five ". That became a subsequent "Battle Cry " for 5 Troop,  " Come Back Five ".
No 2 Commando did take casualties during the operation.
"The Germans were more concerned to know if we were Partisans or Englander. The Partisans did not usually treat them very well.  A few of them who had tried to run away had been shot.
With regard to the prisoners themselves in this picture, it was common practice to make them carry the heavy stuff that we had toted into battle. Any spare mortar bombs, our Bren Jackets and anything else that could be safely loaded on to them.  There were no Partisans with us at this time.
The Bren Jacket was in itself a heavy garment and with it 8 bren magazines, each Mag. contained 28 x .303 rounds of ammunition. In addition the No.1 man carried his Colt 45, plus the weight of 50 rounds for that. The Nos. 2 & 3 in the Bren Team, in addition to the Bren Jacket and their 8 Magazines of .303, carried their Rifles, Bayonnets and 100 rounds of .303 ammunition for that in clips and bandoliers which you can see in the Picture.
Some Troop members would be carrying the 2'' Mortar, its Base plus supply of Bombs, and the 'Piat Man' would be similarly loaded. You can understand why, after the exertion of the activity, and certainly in the warmer weather it was felt appropriate to make the Prisoners carry the load.
In the Infantry Troops we thought we had our share of the weight to be carried, but spare a thought for the members of the Heavy Weapons Troop, who carried 3'' Mortars, Base Plates, & Tripods, plus enough bombs for a battle, and Vickers Machine Guns, and loaded ammunition cylinders."
Communication and Cigarettes
"Unless one was say in the Orderly Room, and perhaps had access to a typewriter, all letters would have been hand written. Letters posted home were always censored by each Troop CO.  There was an Army Newspaper called the '8th Army News', but afterwards this became ' The Crusader '. I imagine because both the 1st & 8th Armies were engaged in the action at that time.
In case you do not know, the Vs… referred to were our Weekly free issue of 50 cigarettes. The name was " Victory Vs ". They came from the NAAFI, but did not arrive every week, some times they were up to a month late.
When we first joined the 8th Army they were called 'Cape to Cairo' the label pictured a Camel, and it was said that's where they came from 'the Camel'. But as we proceeded through Sicily & Italy the name changed. ( I didn't smoke, so was not much affected by the quality )."
Preparations for Japan
We arrived home late June, early July 1945, and I was sent down to St Ives in Cornwall, to attend a " Surf Landing Boating Course " at the Commando School for Boating and Cliff Climbing. The Japanese War was still in progress and we were being regrouped to be sent Far East.
It was said that there were not many natural Harbours available out there and we had to be prepared to make Surf Landings. It seems that opposite the town of St. Ives, the beaches develop the highest level of surf around the UK. When the Local fishermen were coming in because rough weather was expected, we would set out. We used Canadian Dory's which are sharp at both ends ( shades of Moby Dick ). Eight men rowing and one man with a sweep to steer.
The drill was to row into the shore keeping the Boat at strict right Angles to the shore. When we reached the actual surf, the rowers turned about face and adopted a rowing out stance. And held on. The surf would pick the boat up and carry it in. If we did it right the boat would ride in on a high wave and be deposited squarely on the beach. If the angle was slightly out the boat and rowers ended up in a heap under water, with the boat up around your ears.
Another factor was the very thick sea mists that can occur down there even on August Bank Holiday and before. We spent hours learning to steer by compass out at sea in very thick mist, with visibility nil."
Service after the War
"After the war Jack Payne, my brother Stanley, and I,  all enlisted in the London (TA) 10th Battalion Parachute Regiment, and spent 6 years jumping out of aeroplanes and balloons. I may have mentioned that we had done an initial Parachute Course on our return from Yugoslavia, at a place named Gioia del Colle, which means Happiness on the Hill.
We were in number 3 Company, based at Dagenham Essex.  Jack Payne persuaded us to make up a Company Boxing Team, and we won the Inter Company Trophy, 5 years running, so they gave it to us and set up another Trophy."
---
Many thanks to Eric for sharing his memories with us. Now aged 97, Eric is a member of the London Branch.
(First uploaded to Archive October 2016, updated December 2018.)
---
Ask questions / Add information
Use our Forum for research enquiries, or to add information or photos. [register now]. 
Your message will then be seen by our Research Group and the many knowledgeable members of our Forum. 

Read some frequently asked questions here 

[FAQ's].
All content is researched and administered by the Commando Veterans Archive. 
---