Letter to the wife of Mne. Kidwell after his death
Primary tabs
Type: Official Letters
Year of Publishing: 2017
Keywords: Image of Mne Kidwell 46RM Commando and Padre's letter to his wife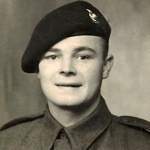 This letter is from the 46RM Commando Chaplain to Mne. Kidwell's wife and is provided courtesy of Mne. Kidwell's daughter Lyn.
Marine William Trevor Kidwell was killed during the River Aller Crossing. 
---
Register on our Forum and post any additional information that you may hold.
All content researched and administered by the Commando Veterans Archive www.commandoveterans.org 
---
Association Membership
Registering on the Commando Veterans Archive, or on the Commando Veterans Association Facebook page, does not make you a member of the Association. The Commando Veterans Assciation needs your support and membership. Find out more here.