Fort William & Spean Bridge Remembrance Parades
Primary tabs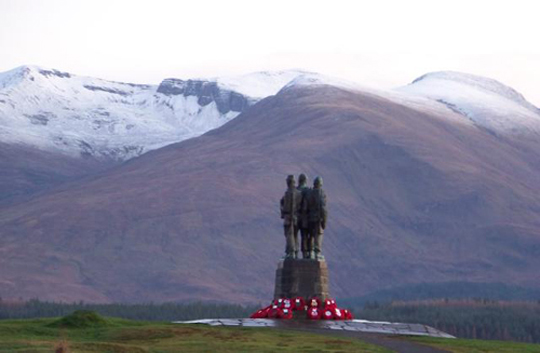 Dates:
Saturday, November 11, 2017 - 09:00

to

Sunday, November 12, 2017 - 17:00
---
Each year over the weekend of Remembrance Sunday the WW2, post war and present day Commandos and their families and friends gather at Spean Bridge's famous Commando Memorial to remember their passed comrades. Both Army and Royal Marine Commandos and special units from all forces are represented and many former comrades are re-united for the first time at this emotional service.
Those seeking information about the 2017 event should contact CVA HQ for confirmation of event. The dates shown above simply refer to the Saturday and Sunday of Remembrance weekend.
---
To learn more about the history of the Commando Memorial follow this link to our
Commando Memorial History. 
    There you will also find the guidelines for the scattering of ashes and laying of plaques at the memorial.  
---
Accommodation
Rooms at the Alexandra Hotel and Ben Nevis Hotel can be booked direct by calling 01397 702241 or email - salesalexandra@strathmorehotels.com. 
Rooms at the Spean Bridge Hotel can be booked on 01397 712250.
The discounted rate is for paid up CVA members only. You should bring your membership card with you for verification where needed by hotel staff.
Spean Bridge, Fort William, Scotland
Association Membership
Registering on the Commando Veterans Archive, or on the Commando Veterans Association Facebook page, does not make you a member of the Association. The Commando Veterans Assciation needs your support and membership. Find out more here.