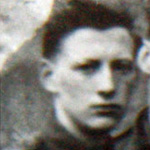 LSgt. Colin Jones, 5 troop, was awarded the MM in recognition of distinguished services during the raid on St Nazaire. He was one of the Commando contingent on board HMS Campbeltown and was captured after the raid.
The death of Sgt. Colin Jones MM, of Huyton nr. Liverpool, was announced in Commando Association newsletter 67 issued September 1978.
Sources London Gazettes Supp. 37162, page 3493. St Nazaire Society website.