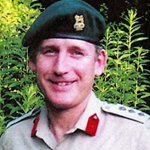 Colonel Richard Pickup died suddenly whilst posted as a defence advisor in Pretoria South Africa.
Richard Allan Pickup joined the Royal Marines in 1983 after university and was awarded the Sword of Honour at the CTCRM. After operational deployments to Northern Ireland and training in the Arctic, he was selected for Special Forces training and joined the SBS, later commanding the unit from 2000 until 2004 when he was appointed commander of the UK Forces in Kosovo. 
He also led the task force which spearheaded the British campaign in Afghanistan.