Reserve Decoration (RD)
There may be additional content elsewhere such as in our Photo Gallery and Forum.
Displaying 1 - 3 of 3
Colonel Paul Jobbins, O.B.E., R.D *., RM Reserves, was awarded the George Medal in recognition of gallant and distinguished service in the Democratic Republic of the Congo in 2004 [1].
Citation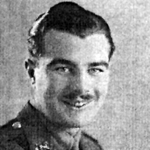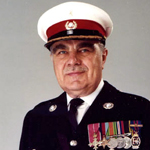 Tom Sherman volunteered for the Independent Companies and was posted to No.4 Ind. Coy.  
He took part in Scissorforce, the North West Expeditionary Force in Norway, 
and after joining No. 2 Commando he attained the rank of TSM in 4 troop.  He took part in the Vaagso raid and St Nazaire. During the latter he was one of the Commando contingent on ML156.
Acting Major Patrick Wall was awarded the M.C. [1] for bravery and great devotion to duty on 20/21st April 1945 whilst second in command of No.48 RM Commando and leading a patrol across the River Maas in the Biesbosch area of the Netherlands [2].
He was also awarded the Legion of Merit, Degree of Officer, bestowed by the President of the United States of America, for gallant and distinguished service during the invasion operations in Italy and Southern France [3]. 
---
Ask questions / Add information
Use our Forum for research enquiries, or to add information or photos. [register now]. 
Your message will then be seen by our Research Group and the many knowledgeable members of our Forum. 

Read some frequently asked questions here 

[FAQ's].
All content is researched and administered by the Commando Veterans Archive. 
---