4 Assault Squadron RM
There may be additional content elsewhere such as in our Photo Gallery and Forum.
Displaying 1 - 2 of 2
1 Assault Group Royal Marines is the lead for amphibious warfare and Royal Navy board and search training. The group is tasked with training and developing core amphibious and surface assault skills and equipment.    It is also tasked with parenting the Assault Squadrons of the Royal Marines (ASRMs) and their Landing Craft detachments which are assigned to the amphibious assault ships.    On the 2nd August 2013, 1 AGRM and 10 Training Squadron moved into their new home at RM Tamar in Devonport.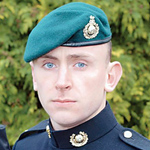 Marine Craig Hodgkinson, 4 Assault Sqn. RM, died of a heart attack whilst playing in a rugby match between the Royal Navy and Cornwall County. 
A keen rugby player, Craig played throughout his school career, including games for the Scotland Under 18s XV.  He also played for Glasgow Hawks and was a member of the team that toured South Africa in 2003 and were unbeaten in their three matches.
---
Ask questions / Add information
Use our Forum for research enquiries, or to add information or photos. [register now]. 
Your message will then be seen by our Research Group and the many knowledgeable members of our Forum. 

Read some frequently asked questions here 

[FAQ's].
All content is researched and administered by the Commando Veterans Archive. 
---