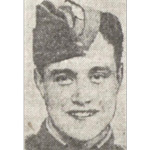 Marine John Alexander was reported missing presumed killed during operations at Dieppe. He has no known grave [1][1a].
Extract from the Dundee Courier
"Royal Marine Commando J. M. Alexander, 58 Mains Road, Dundee, has been reported missing whilst on combined operation.  Aged 21, he joined up three years ago. His brother William is in the Royal Navy" [2].
Sources
[1] CWGC.