'3 Commando Brigade, Royal Marines'
Primary tabs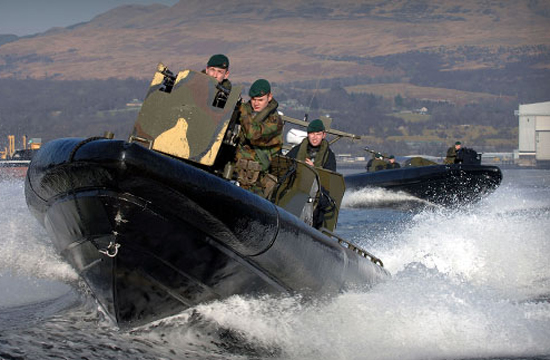 At the end of the war and without notice a decision was made to disband the Army Commandos. Demobilization commenced almost immediately with some Commando Units being merged for short periods as numbers dwindled.
The RM Commandos did not escape the cutbacks being reduced from nine units down to three.
October 1946 after the disbandment of the merged No.1/5 (Army) Commando, 3 Commando Brigade, still in the Far East, was redesignated as 3 Commando Brigade, Royal Marines.
16 March 1947 the then 44 Commando of 3 Commando Brigade RM was redesignated as 40 Commando, Royal Marines.  The intention being to perpetuate a Commando, representative of the Dieppe raid and the Italian theatre of war, and to recognise their contribution to the Allied victory in Europe as with that of 45 Commando, combined with 42 Commando's contribution to Allied victory in the Far East.
3 Commando Brigade RM now consisted of 40, 42, and 45 Commandos, and a Commando Engineer troop.
April 1952 3 Commando Brigade RM commenced its move to Malta utilising the existing accomodation at the barracks titled St Andrew's, St George's, and St Patrick's.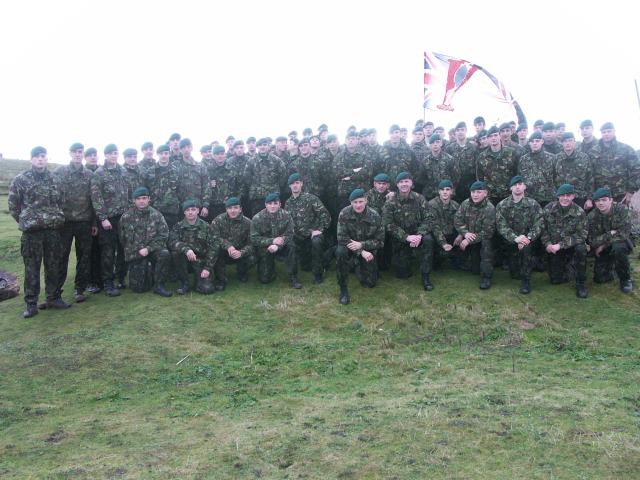 Unlike in WW2, nowadays all Royal Marines are Commando trained. However this did not occur immediately.  Throughout the 50's and 60's recruits attended the Infantry Training Centre, Royal Marines at Lympstone. Once finished their infantry training, Marines had a choice of of going either on the Commando course, or on a Gunnery Course and going to sea on "Big Ships".  
Eventually a decision was made for all Royal Marines to be Commando trained. In 1972 the name of the training centre at Lympstone was changed to the Commando Training Centre, Royal Marines (CTCRM). Veterans who served all their time on board ships wear the blue beret with red patch just as proudly as Commandos  who wear the green beret. These days the former is worn in service only by recruits, often harmlessly referred to in the past as Nods or Winks. Today the CTCRM delivers training recruitment and selection, recruit and Officer training, leadership and career training for the Royal Marines, as well as Commando training for the rest of UK Defence.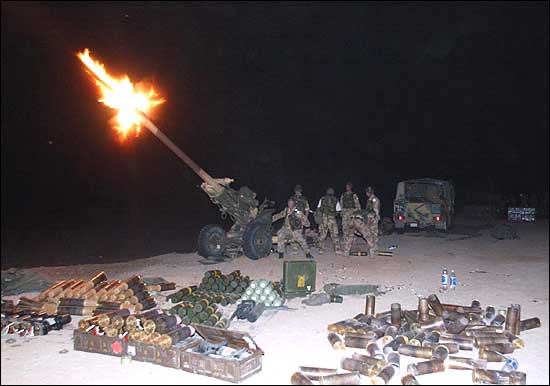 Additionally Army Commando units have again returned. During 1962, 29 Field Regiment RA were deployed with 25 Pounder guns in Aden and Kuwait, deterring Iraq from invading the oil fields. On the back of these deployments, the Regiment was re-roled as Commando Artillery. The newly formed 29 Commando Regiment RA trained for and passed the All Arms Commando Course at the Training Centre Royal Marines, Lympstone. It was a proud and historic moment when the first Army Commandos since the end of the War received their Green Berets on 15 May 1962.
24 Commando Engineer Regiment and 131 Independent Commando Squadron Royal Engineers (V) provide integral engineer support to 3 Commando Brigade Royal Marines. Currently 24 Cdo RE consists of 54 Commando Headquarters and Support Squadron RE and 59 Commando Squadron RE, as well as 131 Independent Commando Squadron Royal Engineers.  
Today's Commando Logisitic Support Squadron can trace its Commando roots back to the 8th May 1964 when four Officers and 24 RAOC storemen and clerks completed their commando training and were awarded their Green Berets as part of the new 3 Commando Brigade Ordnance Field Park. Changing its name in 1972 to the Commando Ordnance Squadron, then being renamed again as the Commando Logisitic Squadron in 1996.
To earn the right to wear the coveted green beret you must first pass the All Arms Commando Course. 
---
Read more about the origins of the Commandos in WW2 [go to commando history.]
---
Ask Questions / Add Information / Add Photos
Use our Forum for research enquiries, or to add information or photos. [register now]. 
Your message will then be seen by the many knowledgeable members of our Forum.
Photos will be reviewed and added to the Archive if appropriate. 

Read some frequently asked questions here 

[FAQ's].
All content is researched and administered by the Commando Veterans Archive. 
---