History of the Unit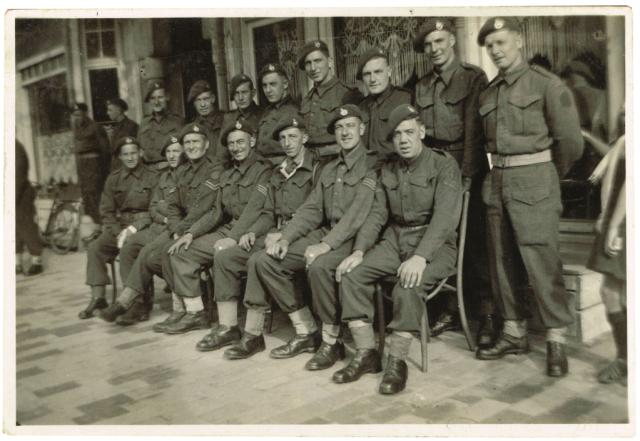 On the 1st August 1943 whilst based at 'A' camp, Piddlehinton, Dorset,  the 9th RM Battalion was redesignated as No. 46 Royal Marine Commando, Royal Marines. Within a week the unit had moved to Poundbury West Camp in Dorchester, quickly changing to its new smaller Commando establishment.  Those not required for any reason for Commando training were gradually moved to Training centres for landing craft and/or other vessel duties.  
In September  advance parties led by Major Lee and Lt. Nunn (both later killed in action) were sent to Troon with the rest of the Commando joining them there on the 15th September. The Commando had already been issued with their Green berets at this stage, parading in Dorchester wearing them on the 11th September before their departure.  
The Commando moved to the Commando Depot, Achnacarry on the 23rd October 1943. On completion of their Commando training course at Achnacarry on the 9th November, the Unit moved back to Troon briefly, before being sent to CTC Dorlin in December for further training, and were re-assigned briefly to the 1st Special Service Bde under Lord Lovat. On completion of this additional training, the Unit moved to Worthing to link up with the rest of the Bde.  arriving there on the 19th December. At the end of the month the Commando was ordered to move to Folkestone and rejoin 4th Special Service Bde. This took place on the 3rd January 1944.  Two troops were sent at this time to the CMWTC at St Ives for a 3 week course in cliff climbing and rock assault.   [Source : War Diary]
All this training was focussed on one thing - the allied invasion of North West Europe.
At 0900 on the 7th June 1944 the Unit was landed on Nan White Beach at Bernieres. There would follow actions in the next few days at Petit Enfer, Douvres, La Deliverande and Rots and Le Hamel. On the 17th June the Unit was reassigned to 4th SS Bde whilst dug in at the area of Sallenelles - Hauger. No. 46 Royal Marine Commando continued operations in the area moving forward to Dozule and Breville sur Mer in August.
At the end of September and after suffering heavy casualties No. 46 Royal Marine Commando and the rest of the Bde was withdrawn to the UK and stationed on the Isle of Wight.
No. 46 Royal Marine Commando returned to North West Europe in January 1945 seeing action in Belgium, and in assault river crossings during the advance into Germany under the command of Lt. Col. Thomas Malcolm Gray MC
At the end of the war the Unit was involved in policing duties in Germany before being disbanded in February 1946.
---
View our Gallery images of 46RM Commando
Click/touch 46RM Commando below for additional content, or follow the links below it to specific content entries.