WW2 Monthly History - October
Primary tabs
There are too many operations and/or notable dates to mention each and every one but here are some. 
---
23rd October 1942 - Execution of the Commandos captured after Operation Musketoon.
This operation was a raid on an electricity generating station at Glomfjord in German occupied Norway. Ten Commandos from No 2 Commando and 2 Norwegian corporals working for the SOE took part in the raid. They were taken by submarine to a remote Fjord, completed a difficult overland route, approaching their target from the rear and successfully destroyed it. Seven were captured and executed at Sachsenhausen Concentraion Camp under Hitler's infamous Commando Order.
Read more in our Archive about Operation Musketoon 
[view].
View our gallery entry about the raid
[view].
---
There is a Memorial to those interned at Sachsenhausen Concentration Camp and who perished there or elsewhere at the hands of their captors.
The Commandos and Naval personnel from Operation Checkmate
[view]
The Commandos from Operation Musketoon
[view].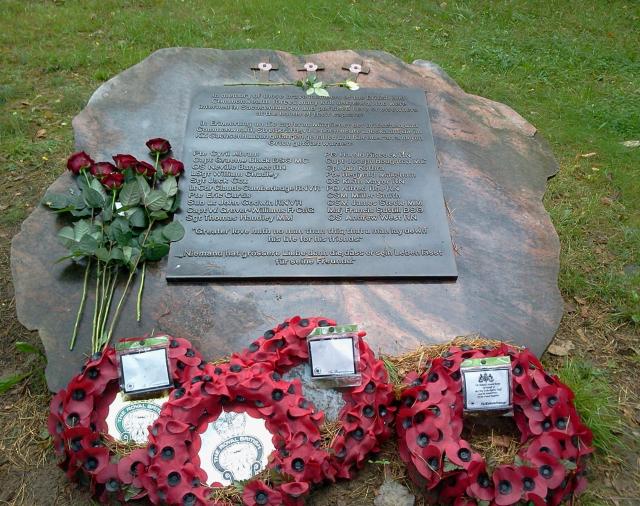 ---
3rd/4th October 1942 - Operation Basalt - a raid on the island of Sark by a small group from No 12 Commando and the SSRF.
Read more in our Archive about the Small Scale Raiding Force
[view].
---
23rd October 1942
- The body of Lance Corporal Norman Drew, Scots Guards, was found in the River Arkaig Achnacarry, 100 yards South of the Iron Bridge. He had been missing for 20 days. It is suspected that he was part of a Scots Guards detachment attending the CBTC. Thus any Commando service is not yet established.
[view].
We have listed those we have discovered to have died at, or in the vicinity of, Achnacarry and Lochailort.
[view].
---
3rd October 1943 - Operation Devon - Termoli. Amongst the Allied forces taking part were No 3 Army Commando, 40RM Commando, and the Special Raiding Squadron (SAS). They captured Termoli, thus unhinging the German defensive position along the river Bifurno. The enemy counter-attacked violently. For a time confusion reigned and the situation was critical, but the great steadiness of the Commando troops under Durnford-Slater, saved the town.
Read an account of No 3 Commando 6 troop's action written by Jack Cox who served in 6 troop 
[view].
---
October 1944 - the continuation of Operation Mercerised with operations in the Sarande and Delvine areas of Albania.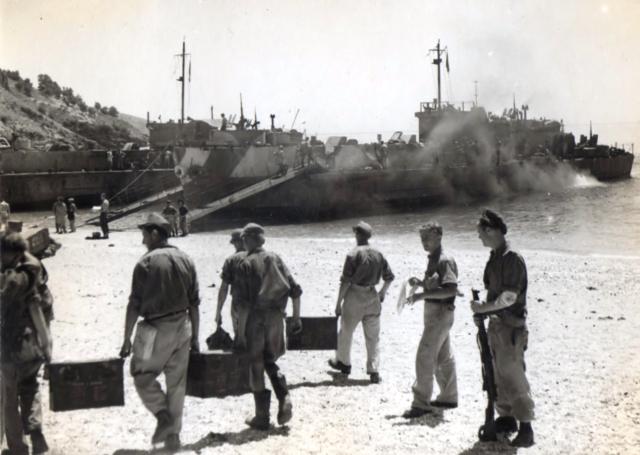 The force known as Houndforce consisted of Commandos from HQ 2 Cdo Bde., No 2 Commando, and 40RM Commando, assisted by units of the Special Raiding Squadron, the Raiding Support Regiment, Assyrian paratroopers under the command of Maj. Guy Hudson, along with Albanian partisans. This operation took place between the 22nd September and the 21st October.
On the 12th October 1944, 40RM Commando participated as part of Houndforce on the island of Corfu. They would return again in the New Year.
---
3rd October 1944 - No. 42 Royal Marine Commando, Royal Marines, embarked with No 1 Commando on board HMT Nevasa for Calcutta. From there they proceeded by rail and river steamer to a transit camp in Chittagong whre they remained for a week. They then proceeded by LCI to Teknaf to relieve the 1st Ox and Bucks in the line at Maungdaw.
We have several documents in our Archive about 3 Special Service (later Commando) Brigade operations in the Far East. [view].
---
28th October 1944 - No. 43 Royal Marine Commando, Royal Marines, participated in Operation Floxo at Dubrovnik.
---
31st October 1944 - In North West Europe the allies continued their advances with No 4 Commando preparing with units from No. 10(IA) Commando, and Nos. 41, 47, and 48 Royal Marine Commandos for their assault on Walcheren the following day. This will be documented in next month's edition.
---
Ask Questions / Add Information / Add Photos
Use the Archive Forum for research enquiries, or to add information or photos. [register now]. 

Read some frequently asked questions here 

[FAQ's].
All content is researched and administered by the Commando Veterans Archive. 
---