WW2 Monthly History - March
Primary tabs
There are too many operations and/or notable dates to mention each and every one but here are some. Photo below depicts No 3 Commando officers at Limehouse during training for D Day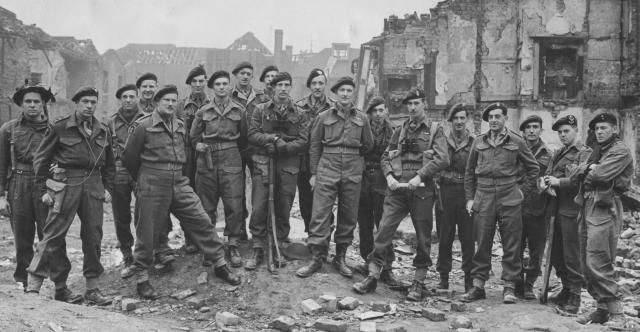 4th March 1941 saw No 3 and 4 Commandos involved in Operation Claymore, on the Lofoten Islands. The Force also included approx 50 Royal Engineers and a group from the Free Norwegian Forces. They were transported on board two converted ships, the Princess Beatrix and the Queen Emma, now loaded with LCA's or Landing Craft Assault vessels. Leaving from, and returning to Scapa Flow, they were escorted by 5 Royal Navy destroyers. Two of the Commandos were later photographed with a couple of souvenirs in a newspaper after returning from the raid - L/Cpl Ernie Brooks and Pte. Fred Brooking. That photo can be viewed HERE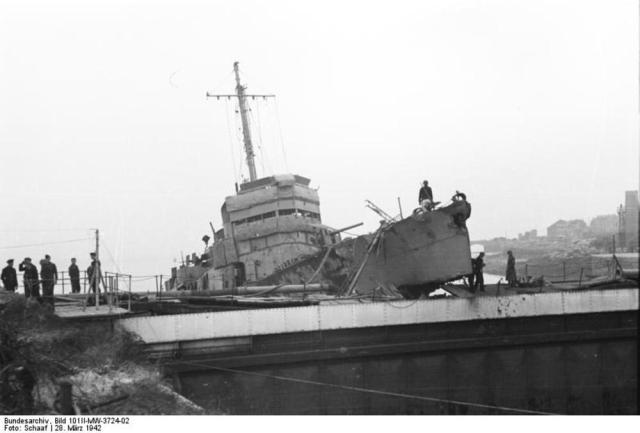 28th March 1942 also saw No 2 Commando involved in Operation Chariot at St Nazaire, supported by small detachments varying in size from Nos 1,3,4, 5,9, and 12 Commandos. Five Victoria Crosses would later be awarded for gallantry on the raid. On Wednesday 1st April 1942 a ceremonial funeral was held to inter the dead from both sides, in a field at Escoublac, near to the German Naval HQ. The prisoners were invited by their captors to send a party to attend. Photos of the burial party can be seen HERE. We have an account of the raid on our site and it can be read HERE.
Much has been written about the raid but for the best accounts of before and after we recommend Storming St Nazaire by James Dorrian and St Nazaire Commando by Stuart Chant-Sempill. The gallantry of so many Commandos and Royal Navy personnel that day, many of whom would never return home, justify it being known as the "Greatest raid of all". 
March  1943 saw continued operations in North Africa involving No 1 Commando. The Northforce half of No 12 Commando were engaged in operations along the Norwegian coast and fjords.
March  1944 saw No 9 (Army) Commando along with 40 & 43RM Commandos take part in the Anzio landings. Amongst the many casualties was Private Robert Rose Urquhart of No 9 Commando. He recovered from his wounds at Anzio only to be killed the following year at Lake Comacchio. We have copies of 2 of his letters home, the first when injured and in hospital, and the second dated the 29th March 1945 having just rejoined No 9 Commando in Italy. He was killed in action 4 days later. Click HERE for more about Pte Urquhart and to read those and other letters.
During this time No 2 Commando were involved in Operation Detained 1 at Grohote village on the island of Solta (Yugoslavia). Read some basic information about this operation [HERE]. 43RM Commando took part in a raid on Hvar Island (Yugoslavia). 
March 1944 also saw continued operations in the Far East involving HQ 3 Cdo Bde and Nos 5 (Army) Commando and 44RM Commando, one particular being Operation Screwdriver. The fighting in the Arakan campaign was tough and casualties high. Photos of some of the No 5 Commando graves from the Arakan campaign can be seen in our war graves album for Burma (Myanmar) HERE.
March 1945 saw 1 Commando Brigade involved in operations clearing the Rhine- Maas triangle, and the crossing of the Rhine and capture of Wesel, whilst 48RM Commando took over from 41RM Commando in patrolling lower Maas.
March 1945 was also the month that two former members of No 12 Commando were executed, Lt Ross Littlejohn MC and Cpl Joseph Crowley.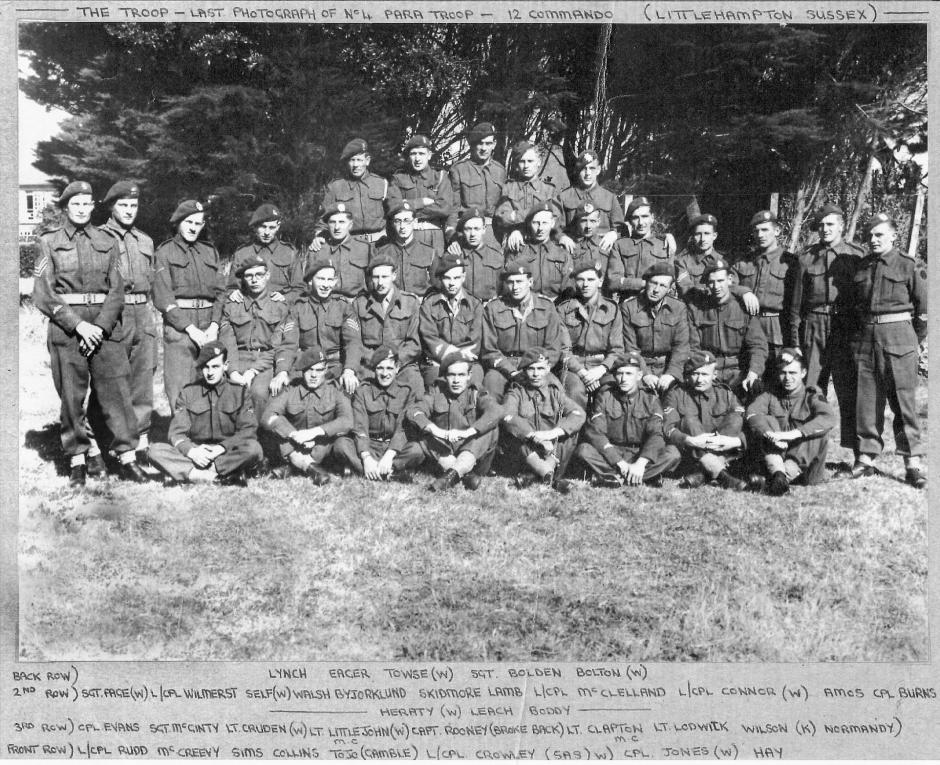 Both were now members of 2SAS and were captured during an operation in Italy and then executed at Bolzano, Italy.
After a War Crimes trial the two German SS officers involved were both convicted of this and other atrocities and murders, and sentenced to death which was carried out on the 26th July 1946. 
The picture shows Lt Littlejohn MC and Cpl Crowley whilst attached to No 12 Commando, along with Corporal Stanley Bolden MM who was killed in action in March 1945 also whilst attached to 2SAS. Click or touch the photo for more detail.
---
Ask Questions / Add Information / Add Photos
Use our Forum for research enquiries, or to add information or photos. [register now]. 
Your message will then be seen by the many knowledgeable members of our Forum.
Photos will be reviewed and added to the Archive if appropriate. 

Read some frequently asked questions here 

[FAQ's].
All content is researched and administered by the Commando Veterans Archive. 
---