Ken and Tom Trevor No.1 Commando
Primary tabs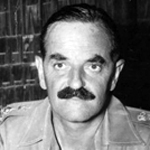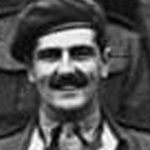 Transcript of Forum Message from Simon Trevor
I am the son of the late Brigadier Kenneth Rowland Swetenham TREVOR CBE DSO who during WW11 was CO of No 1 Commando. His cousin Tom Trevor was known in the family as 'Joe' to differentiate him from his father who was also called 'Thomas'. [I believe that US Rangers records show Tom as 'Travis Trevor'.]

In the Commandos Lt Col Tom Trevor was called 'Senior' because of his rank and tall stature (6 foot 4 inches) and my father Ken Trevor (who was also a big man) was known as 'Junior'. My father who was in Ireland having travelled from West Africa at the beginning of the war received a message from Joe asking him to volunteer for 'special service' and if he managed to get permission he was to go to interview in Scotland.

Ken became a Captain in the Unit which was to be No 1 Commando. It was comprised from two units which had been in the Norway campaign and had been known as 1st Independant company Special Service. The OC was Colonel Wil Glendinning of the Welch Regiment and Joe Trevor was his second in command. My father was put in charge of No 1 Troop.

My father told me (and recorded in his memoirs) that there was some talk of parachute jumping and that the whole unit might become a parachute battalion. The Commandos wanted him because there was a possibility about there being an operation in West Africa or the Azores and they thought his experience with the Royal West African Frontier Force in Nigeria would be helpful.

In 1943 my father and Joe were warned that they were going to the Far East. One or two officers including Joe preferred to stay in Europe and fight the Germans and my father then took over command of No 1 Comando from his cousin Joe and led them at the Kangaw landings in Burma and at Hill 170 where my father recommended Lt Knowland for a posthumous VC. [The full details of this battle from my father's unpublished memoirs are now on the Burma Star website]

Prior to going to Burma a group photograph was taken in Winchester of all officers and men in No 1 Commando and the picture of Joe from this photo was used by 'The Daily Telegraph'/ 'The Times' in his Obituary.

Joe was the British liaison officer with the US Rangers on D-Day. He had trained with the Rangers in Scotland and was an expert at climbing. Joe was wounded in the head at Point du Hoc by a German sniper whilst walking alomg the beach giving encouragement to the US Rangers. To avoid sniper fire he took two short steps and three one long ones but unfortunately it didn't fool them and took a shot in his helmet which gave him a nasty head wound.

My father was on Operation Torch and had under his command three Troops of No 1 Commando and two American Troops of Rangers. My father was the first British Officer ever to have commanded US soldiers in the war and when they landed at Algiers to capture the 8 Gun Battery of De Lazaret on Cap Matifou he ordered his men to wear the 'Green Beret' - the first time it had been worn in Battle. As a result of the involvement with the American trops No 1 Commando adopted the Garand rifle until the end of the war. 
---
Ask Questions / Add Information / Add Photos
Use our Forum for research enquiries, or to add information or photos. [register now]. 
Your message will then be seen by the many knowledgeable members of our Forum.
Photos will be reviewed and added to the Archive if appropriate. 

Read some frequently asked questions here 

[FAQ's].
All content is researched and administered by the Commando Veterans Archive. 
---