9 Commando
Primary tabs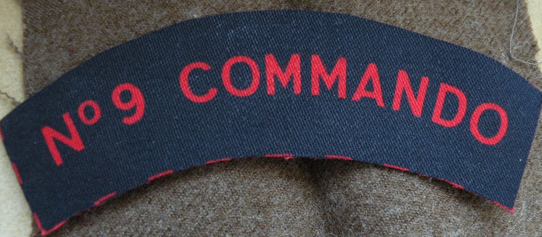 History of the Unit
No. 9 Commando was initially formed with No.11 Commando in July 1940 from Scottish Command. Their first commanding officer was Lt. Col. John Maclean 'Jack' Saegert, RE. Many original members of No.9 came from No's 6 and 7 independent Companies which had been raised in April 1940. No.9 became part of the 2nd Special Service Battalion in the autumn of 1940.
The unit did not wear a cap badge as such but while serving in the 2nd Special Service Battalion they wore a black hackle in a khaki Balmoral hat. When the Special Service Battalions were re-organized in March 1941, the unit reverted to its 9 Commando title. Their H.Q. at this time was at Criccieth, North Wales. They retained the Balmoral and black hackle which was transferred to the green beret when the latter was adopted in 1942.
Operation Sunstar
. The first operational raid by the Commando was on the nights of 22nd/23rd November 1941
on the French coast at Houlgate. A successful landing and evacuation was affected without loss. After this raid Lt Col R Tod assumed command of the unit. 
Operation Chariot
. In March 1942 a small contingent of Commandos from No.9 took part in the famous St.Nazaire raid in support of No 2 Commando.
No.9 Commando were then called on to reinforce the garrison in Gibraltar during the lead up to the Torch landings in North Africa .The unit remained in Gibraltar until March 1943 after which it returned to the UK for refitting. After being posted to the Mediterranean and arriving there in November 1943 No 9 were in action again on the islands of Tremiti and Pianosa.
Operation Partridge
. December 1943 in the river Garigliano area. The Commando suffered heavy losses during the bitter fighting in the early months of 1944 at Monte Ornito and Anzio , before leaving the area mid March '44 for Naples, and then onto Molfetta. 
The next few months were spent rebuilding the Commando from replacements sent from the UK already Commando trained, and when there no more available, from volunteers from Regiments operating in North Africa and the Central Mediterranean . These then had to undergo their training from the Commando training group that had been formed in Italy.
Other operations by No 9 included
'Operation X'
at the Anzio Beachhead March 1944, 
'Operation Darlington 11'
May 1944, and Operation 'Gradient'  August 1944. This latter operation featured men on bicycles attacking a garrison. The garrison did not exist so a local telephone exchange was ransacked instead.
Later No 9 Commando operated in Greece before returning to Italy for its last engagement at Commachio and Argenta in April 1945.
Once the the war ended a decision was made to disband all Army Commando units.
---
View:  Photos and history of the Marble Memorial at Mt. Ornito
View: Gallery images of No 9 Commando
Click/touch No 9 Commando below for additional content, or follow the links below it to specific content entries.
---
Ask Questions / Add Information / Add Photos
Use our Forum for research enquiries, or to add information or photos. [register now]. 
Your message will then be seen by the many knowledgeable members of our Forum.
Photos will be reviewed and added to the Archive if appropriate. 

Read some frequently asked questions here 

[FAQ's].
All content is researched and administered by the Commando Veterans Archive. 
---