Commandos in WW2
Primary tabs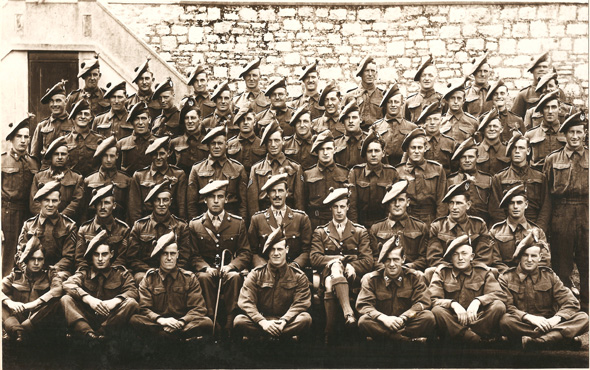 The Commando Veterans Archive is dedicated to Commandos from their formation in 1940 to the present day. If you have information or photos register and post the detail on our Forum 
www.commandoveterans.org
---
Commando History
The first call for volunteers for 'Service of a hazardous nature' was in the early months of 1940 and for the new Independent Companies.  Many of these men went onto action in Norway almost immediately with little training.  On their return Winston Churchill wanted his own Corps of 'shock troops' to start afresh.  Lt Col Dudley Clarke, who was then Military Assistant to the Chiefs of the Imperial General Staff, is generally credited with the initial outline plan of their formation. His plan was approved and the name agreed on. Thus the 'Commandos' were formed.
A majority of volunteers for the Independent Companies went onto join the newly raised Army Commandos.  Further volunteers came from all sections of the Field Army. 
In the Autumn of 1940 the Commandos and Independent Companies were organised into five Special Service Battalions under the command of a Special Service Brigade HQ. However these larger Battalions were felt too unwieldly and they were returned a few months later to their Commando designations.
It should be noted that at this time these early Commandos were all Army Commandos rather than Royal Marines.  
A total of 12 Army Commando units were initially raised. It was not until February 1942 that the first Royal Marine Commando unit was raised. Initially designated as 'The Royal Marine Commando', then 'A' Commando, and finally No.40 Royal Marine Commando, Royal Marines. 40 and the later No.41RM Commando would be the only two RM Commando Units raised solely from volunteers as with their Army Commando counterparts. 
Royal Naval Beach Commandos and Royal Air Force Servicing Commando Units were also raised, the former being unique in that R.N.B.C. unit designations were by letter of the alphabet rather than numerical.
In August 1943 a further six RM Commandos, Nos. 42 through to 47,  were raised  by the disbanding of certain battalions of the Royal Marines and redesignating them as Royal Marine Commando units. In March 1944 a need was seen for a further unit and No.48 RM Commando, Royal Marines, was raised. All went through the same rigorous Commando training as their Army counterparts. At the same time all the Army Commandos and RM Commandos were grouped together into four new Special Service Brigades. These four Brigades, each with their own command HQ, came under the auspices of a new HQ Special Services Group.
Nos. 1 and 4 Bdes operated in North West Europe; No. 2 Bde in Italy, Yugoslavia, and the Central Mediteranean area; and No. 3 Bde in Burma.
Towards the end of 1944 all four Special Service Brigades were redesignated as Commando Brigades.
At the end of the war, and without notice, a decision was made to disband the Army Commandos. Demobilization commenced almost immediately with some Commando Units being merged for short periods as numbers dwindled. The Commando role would now be for the Royal Marines.
Only three Commando units were initially retained, under the one Brigade, now designated as 3 Commando Brigade, Royal Marines.
Their Commando titles also changed from, for instance, No. 45 Royal Marine Commando, Royal Marines, to 45 Commando, Royal Marines. 
Read more about post war Commando history. [go to post war history.]
---
A résumé of the Wartime Army Commandos by Brig. Peter Young DSO MC
"The thirty-eight Battle Honours awarded to the Army commandos serve as a Prologue to this brief history of their five years' Active Service. Look at the list and you will see that they were not the most peaceable operations of the Second World War. But these were only the most famous of countless fights in which these units played their part.
A summary of the decorations awarded to officers and men of the Army Commandos gives some indication of their prowess. Eight won the Victoria Cross; thirty-seven the Distinguished Service Order, with, in addition, nine Bars to that award; one hundred and sixty-two Military Crosses, with thirteen Bars; thirty-two Distinguished Conduct Medals; and two-hundred and eighteen Military Medals. But only the most fortunate, the most outstanding, won these distinctions, chosen from a host whose devotion and bravery was not less marked for being unrewarded.
This unique record of the Army Commandos owed more than anything to the fact that every man was a volunteer. He was, moreover, a picked volunteer, selected by officers who trained him and led him in battle. Those who failed for one reason or another to measure up to the most exacting standards of training, discipline and conduct under fire, could be Returned to Unit without more ado. Not a few were. "
Read the full account here The Wartime Army Commandos by Brig Peter Young DSO MC
---
Additional Sources
No short résumé on a website like this can give full detail as to what went on. Much of the information and credit shown here must go to the authors and former Army Commandos, Major James Dunning and Captain Donald Gilchrist. Their books 'It Had to be Tough' and 'Castle Commando' detail every aspect of what it was like and are highly recommended by the Commando Veterans Association.
---
Ask Questions / Add Information / Add Photos
Use the Archive Forum for research enquiries, or to add information or photos. [register now]. 
Photos will be reviewed and added to the Archive if appropriate. 

Read some frequently asked questions here 

[FAQ's].
All content is researched and administered by the Commando Veterans Archive. 
---