ROGERS, Joseph Gerard Anthony
Primary tabs
Unit / Base:
2 Commando
4 Independent Company
Regiment/Corps:
Liverpool Scottish Queens Own Cameron Highlanders
Lance Sergeant Joseph Rogers, 5 troop, was awarded the Military Medal in recognition of gallant and distinguished service during operations at Spilje Albania on 28/29 July 1944.
Recommendation
Military Medal (Immediate) Spilje Bay, Albania, Operation Healing 2. 
"L/Sgt Rogers personally led his sub section with conspicuous gallantry. In the face of heavy fire from two spandaus he continued to advance against his objective. Although wounded and in great pain he led his men on to close with the enemy and killed the machine gun teams. 
By this action, the troops on his left who had been held up, were enabled to advance again.
L/Sgt. Rogers throughout showed a complete disregard of danger, and continually refused to allow his wound to interfere with his duties until the objective had been captured, and other casualties in his section had been dealt with first."
---
On 28 March 1942 he had been one of the commando contingent embarked on board motor launch ML 443 for Operation Chariot, the raid at St Nazaire. Evacuated back to the UK after the raid he remained with No.2 Commando for the remainder of the war.
Service Record 
17 January 1940 enlisted and posted 1st Bn. Liverpool Scottish, Queens Own Cameron Highlanders TA, 'C' Company . 
15 July 1940 volunteered for and attached No.4 Independent Company.  
21 July 1940 attended RTC Inverlochy. 
9 November 1940 attached to 'B' Company No.1 SS (Special Service) Bn. at Paignton. 
4 March 1941 attached to No.2 Commando 5 troop.
Training at Dumfries, Ayr, and demolitions training at Cardiff and Burntisland. 
27/28 March 1942 took part in Operation Chariot St Nazaire, France, on board ML 443 as part of a demolitions team. 
29 March 1942 evacuated back to UK 
Promoted Lance Sergeant.
13 April 1943 embarked with all of No.2 Commando for Gibraltar.
Subsequently took part in operations in Sicily, Italy, Yugoslavia, and Albania. 
28/29 July 1944 Albania Operation Healing 2, wounded and awarded Military Medal (immediate).
Rejoined No 2 Commando and further wounded.
Attached to No.2 Commando Brigade HQ.
17 May 1946 released from service. 
Sources
London Gazette 36730, page 4570.
Army Service Record.
Family citation and photos.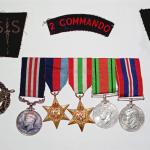 Photo of Commando in Gallery:
---
Ask Questions / Add Information / Add Photos
Use the Archive Forum for research enquiries, or to add information or photos. [register now]. 

Read some frequently asked questions here 

[FAQ's].
All content is researched and administered by the Commando Veterans Archive. 
---