BALLANTYNE, George
Primary tabs
Police Service:
West Lothian Constabulary
Died :
Wednesday, January 31, 1945
Killed in action or died of wounds
Lance Corporal George Ballantyne died during operations at Kangaw, Burma. Son of James and Elizabeth Ballantyne; husband of Annie McNeil Fotheringham Ballantyne, of Bo'ness, West Lothian.
George was a Police Officer who joined the West Lothian Constabulary on 3 January 1940. He volunteered for the Commandos and was part of the 1942 Police Intakes to the Commando Depot (Commando Basic Training Centre), Achnacarry. His name is amongst those on a West Lothian Constabulary ROH tablet currently located on the north exterior wall of the former Linlithgow Police Station, Court Square, West Lothian.  
Sources
[1] CWGC.
[2] Registers of Reports of Deaths - Naval Ratings / National Archives file ADM 104/127.
[3] 3 Commando Brigade Jungle Book issue 9 [see Linked Content below].
[4] IWM War Memorial Register ref WMR-53637.
[5] Tony Moore, FRHistS and Police Historian.
[Image below] Report in the Linlithgowshire Gazette 16 February 1945.
Notes
Sources [1] and [2] erroneously show his unit as 43RM Commando who were not operating in this theatre of war. Source [3] records him on the ROH for 42RM Commando.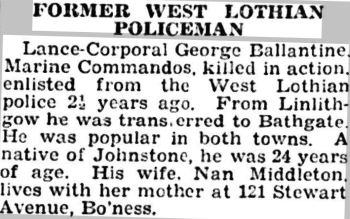 ---
Ask Questions / Add Information / Add Photos
Use the Archive Forum for research enquiries, or to add information or photos. [register now]. 

Read some frequently asked questions here 

[FAQ's].
All content is researched and administered by the Commando Veterans Archive. 
---