O'FLAHERTY, Denis William Venables Patrick
Primary tabs
Rank:
Lieutenant (later Brigadier)
Unit / Base:
3 Commando
'29 Commando Regiment RA'
Born:
Thursday, October 28, 1920
Lieutenant Denis O'Flaherty, No. 3 Commando 6 troop, was awarded the Distinguished Service Order, and additionally Mentioned in Despatches, in recognition of gallant and distinguished service in successful combined operations against the enemy at Vaagso and Maaloy on December 27th 1941 [1][1a][2].
He was wounded on three separate occasions during the operation, being shot in his eye, jaw, and neck, after which he was hospitalised for 2 years [1a][2]. 
6 June 1944 to 26 September 1944 General Staff Officer, 2nd grade (GSO2) (L), Commando Group *. 
1 August 1945 to 1 October 1945 General Staff Officer, 3rd grade (GSO3) (Operations), Commando Group *.

Korean War - Captain (Temp. Major) 45th Field Regiment RA, 116th Field Battery, attached to the 

US Army, 

awarded the Bronze Star Medal conferred by the President of the United States of America 

in recognition of gallant and distinguished service 

during the operations by the United Nations in Korea 

[3] *.
4 July 1951 to 1 July 1952 General Staff Officer, 3rd grade (GSO3), General HQ Far East Land Forces *.

4 November 1952 promoted Major (Royal A

rtillery) 

[4]

.

17 February 1955 to 21 February 1957 Brigade Major, Royal Artillery, Infantry Division *.

6 September 1961 promoted Lieutenant Colonel [5].

1962 appointed the first Commanding Officer of 29 Commando Regiment RA [6].

30 November 1963 to February 1967 

College Commander, Royal Military Academy, Sandhurst 

*

.

24 February 1967 promoted Colonel 

[7]

.

31 December 1968 promoted Brigadier [8].

14 June 1975 appointed C.B.E. (Military Division) [9].

10 December 1975 Brigadier D. W. V. P. O'Flaherty, C.B.E., D.S.O. retired [10].
Sources
[1] London Gazette 35510, page 1506. [1a] National Archives file WO373/93/253. [2] His daughter Marye Humphery. [3] London Gazette 39254, page 3172 (dated 8 June 1951). [4] London Gazette 39685, page 5799. [5] London Gazette 42520, page 8513. [6] Commando Association newsletter 35 issued September 1962. [7] London Gazette 44287, page 4027. [8] London Gazette 44754, page 13910. [9] London Gazette 46593, page 7374. [10] London Gazette 46773, page 16369. [Images] His daughter Marye Humphery.
* Forum message from Captain Geoff Murray, former National Secretary Commando Veterans Association
 Lieutenant O'Flaherty, wounded and being supported by fellow Commandos, Vaagso 27 December 1941.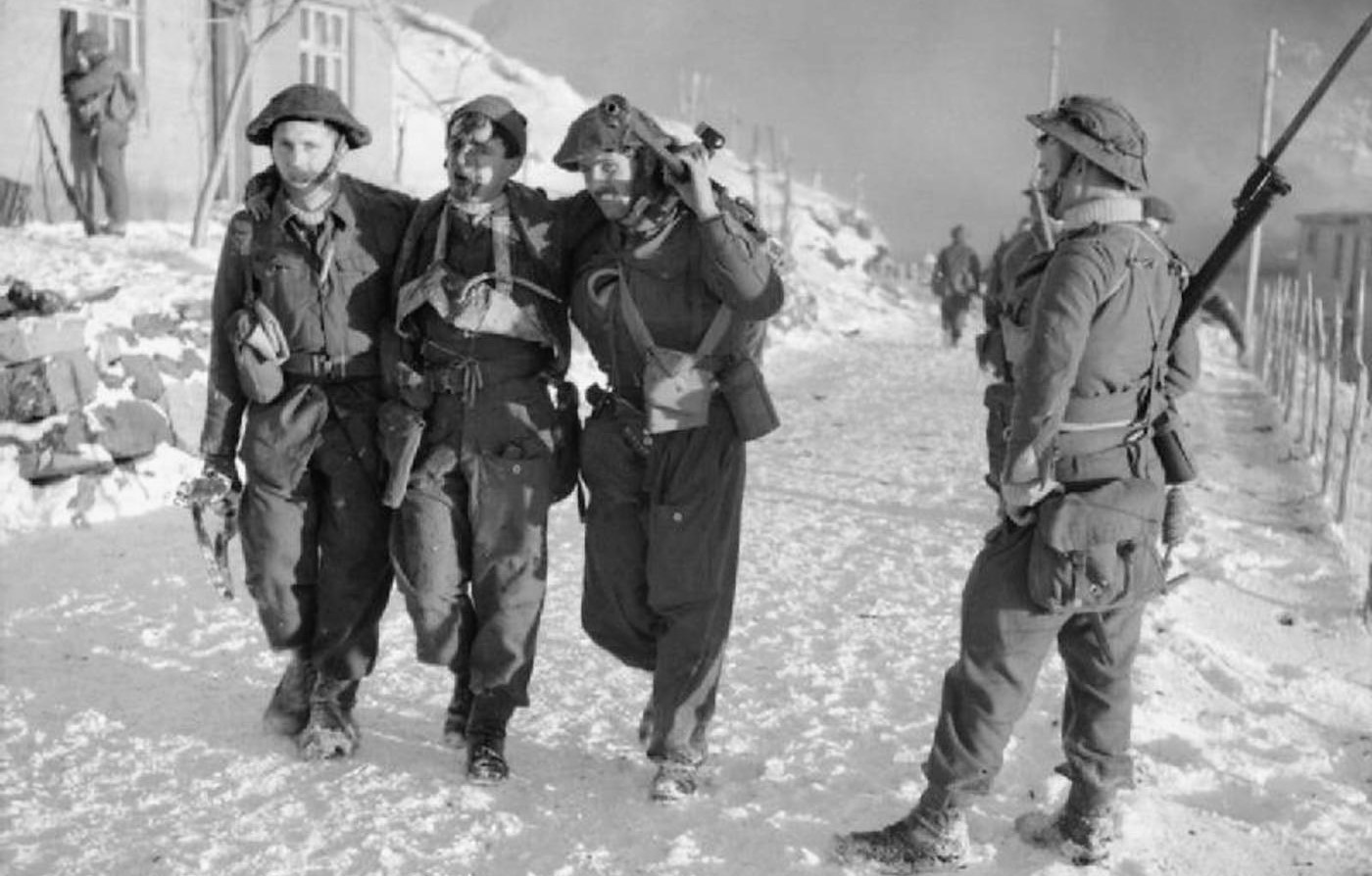 Photo of Commando in Gallery:
---
Ask Questions / Add Information / Add Photos
Use the Archive Forum for research enquiries, or to add information or photos. [register now]. 

Read some frequently asked questions here 

[FAQ's].
All content is researched and administered by the Commando Veterans Archive. 
---