The Westminster Abbey Memorial models
Primary tabs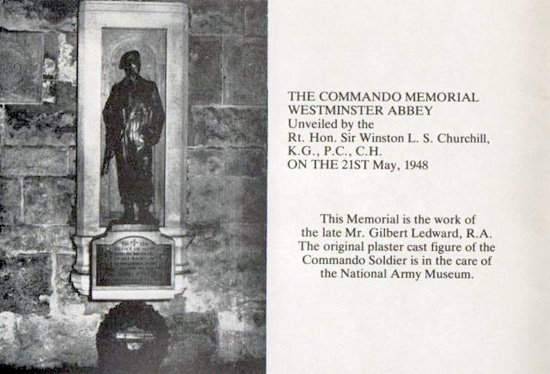 Extract from the Dundee Evening Telegraph - Saturday 17 August 1946
Mr Gilbert Ledward, R.A., picked a real commando for his model for a bronze figure he is sculpting for the commando memorial in Westminster Abbey.  The model was Company Sergeant Major Ayres, who was in several raids on the Norwegian coast *.
Mr Ledward is now finishing the clay model for a second figure, that of a parachutist. Model for this is 23-year-old Corporal H. Elliott, who wears the famous red beret when is walking out. In full parachutist's equipment and carrying a sten gun, he poses for five or six hours every day at Mr Ledward's studio.  He finds it a little tiring, but nothing at all compared with the crossing of the Rhine, in which took part.
The third figure will represent a sailor in the submarine service. Mr Ledward has not yet started work on this, and the model has not been chosen.
The three figures will commemorate men who volunteered for some of the war's toughest assignments. Sculptor Ledward, a gunner in World War I, has been at work since Christmas on the volunteers' memorial which will stand in the Abbey cloisters. Each of the figures will about three feet high, and Mr. Ledward has designed limestone setting for them to blend with the cloister walls. He does not expect to finish the memorial until next year.  The clay modelling for each figure takes from three to four months, and the casting in bronze also a long job.
Sources Dundee Evening Telegraph British Newspaper Archive (website britishnewspaperarchive.co.uk); The British Library Board.   * There was an SQMS R.B. Ayres BEM, who served in 12 Commando and 4 Commando Brigade  
---
Ask Questions / Add Information / Add Photos
Use the Archive Forum for research enquiries, or to add information or photos. [register now]. 
Photos will be reviewed and added to the Archive if appropriate. 

Read some frequently asked questions here 

[FAQ's].
All content is researched and administered by the Commando Veterans Archive. 
---