2 Commando, Some of the Men
Primary tabs
There is a worn-out cliché which goes as: "They came from all walks of life". It is descriptive and fits, so we will use it one more time because it certainly describes the pre-service backgrounds of the people who took their places in the ranks of No. 2 Commando. They were an interesting assortment and what follows is some insight as to how their lives unfolded and sometimes terminated.
nb. click/touch the names for additional info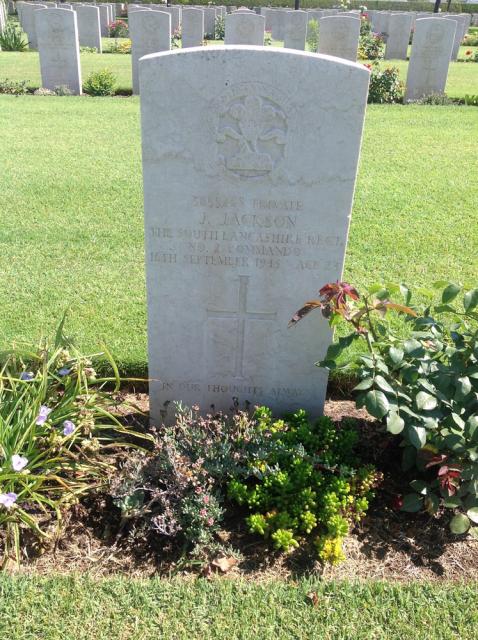 Joe was a former Isle of Man taxi-driver who was an old hand from the Independent Company days and was there from the beginning of the Commando. Joe won the D.C.M. and almost made it to the end of the war, K.I.A. 27 February, 1945, Age 39, at Lake Comacchio, Italy.
---
Dennis was a student from Birmingham, although judging by his age probably schoolboy would have been more accurate. This lad fought in the battle of Dragone Hill in the Salerno landing and was K.I.A. 13 September, 1943. Dennis was 18.
---
Fred came from Warrington, Lancs, and was an early member of No. 2. He was at Vaagso and later was seriously wounded at St. Nazaire. He fought in Sicily followed by the Salerno landing where he was wounded again and received an M.M. for his courage.
Fred continued his campaign in Yugoslavia and Albania operations and was wounded a third time in the Argenta Gap, Italy, battle where he won a bar to his M.M. After the war, Fred resumed life as a Lorry Driver and passed on at the age of 63. A quiet man.
---
L/Cpl. John Phelan
Johnny was educated at an expensive finishing school in Belgium. He came from a family that operated a flourishing restaurant business in London. Johnny was in the campaigns in Sicily, Italy, Yugoslavia and Albania. He was commissioned from the ranks as a Lieutenant in 1945. The thing that the author remembers most about Johnny is that he got on our nerves relating about yummy hot roast beef sandwiches at his family restaurant while we were in the process of consuming our usual meal of corned-beef and hard-tack biscuits.
---
The 6th Duke of Wellington could have had a very comfortable war had he chosen to be the functional head of his own regiment, The Duke of Wellington's (West Riding) Regt. Instead, the Duke sealed his own fate when he arrived at 2 Wellington Square, the 2 Commando H.Q. in Ayr, May 1942. This rather chubby, unpretentious and likeable man turned out to be a great Commando Troop Leader who knew that leading from the very front of his troop was the only place to be. The Duke was K.I.A. 16 September, 1943 at Pigoletti in the Salerno beachhead. He was 31. It must have been in our minds when some Sgt. remarked that our Duke had paid a higher price than his illustrious ancestor. The 'Iron Duke' rests in the crypt of St. Paul's Cathedral. Our Duke is buried alongside many other men of No. 2 Commando in Salerno War Cemetery.
---
Jack enlisted in the regular army in 1929. He was a fugitive from hard economic times and very much admired the idea of eating on a regular basis and the luxury of having a roof over his head. He arrived in Ayr from Achnacarry in May 1942 and enquired if this author was also from the Royal Norfolk Regt. He then stated that the author's name was the same as his first R.S.M. in 1929 who had a five-year old son. So, the author stuck out his hand and said "It's been a long time, Jack!" We became firm friends for the remainder of Jack's life. The campaigns that followed our stay in Ayr proved that Jack was a fine leader of men who was much-admired for his steadiness in any situation. Our friendship was broken when Jack was severely wounded and died after reaching his objective – a fortified ridge at Himare, Albania. The date was 29 July, 1944. His age was recorded as 37 (going on 42). We all missed this fine old soldier.
---
Police Constable Cant arrived from Achnacarry in May, 1942 as part of the wonderful Police Intake who had no previous military training prior to attending Col. Charlie Vaughan's school. Our 'cops' settled in very fast and not one of them had any problem becoming valued Commando soldiers. Everyone addressed Bill Cant as 'P.C.' thereafter. The boys from the London Police used to tease 'P.C.' about being from a rural Essex constabulary, with references to the famous case of two runaway chickens when they had to ask 'The Yard' for help. 'P.C.' fought well and became an obvious leader in seven 'No. 2' operations resulting in him receiving his Lieutenants 'pips' in 1944. 'P.C.' survived the war and presumably went back to the still-unsolved chicken case in Essex.
---
Tommy Peyton had been with No. 2 Commando for only a few short months when he embarked for the voyage to the Loire River and the port of St. Nazaire. Somewhere in the holocaust that followed on the night of 28 March, 1942, Tommy earned the distinction of being the youngest officer of No. 2 Commando to fall in battle. He was 20 years old.
---
Alfred Neal was a medical orderly with the assault troops of No. 2 Commando, who landed at St. Nazaire on the night of 28 March, 1942. Alfred's attempts to help wounded Commandos from very exposed positions on the docks resulted in his receiving fatal wounds. Alfred was from Norwich – this author's hometown. Pte. Neal was 24.
---
Known to everyone by the surname of Houghton, his actual family surname was Johnson - Houghton. The family tended to simply use the shortened version Houghton. 
Joe Houghton was educated at Marlborough College and later employed at the African Manganese Company in Sauda, Norway.
He was mobilised with the Honourable Artillery Company in 1939 and commissioned as a 2nd Lieutenant on the 29th April 1940. After volunteering for special service he was posted to No.4 Independent Company. In May 1940 he sailed to Norway with No.4 and other Independent Companies as part of Operation Scissorforce. In October 1940 as part of the restructuring of the Ind. Coys. he was posted to B Coy. No.1 SS Bn and a few weeks later to the newly formed No.2 Commando.
On the 28th March 1942 Joe participated in Operation Chariot - the raid on the port of St Nazaire. He was in charge of the Protection party for a demolition team on board ML443. This was one of the few ML's to make it back after the raid. It was later that year that Joe took part in what would be his final raid with No.2 Commando. This was the raid on the Glomfjord hydro-electric plant in Norway codenamed Operation Musketoon. During this raid he was wounded, and along wth 6 other members of the raiding party, was taken prisoner of war. They were later transferred to Germany. On the 23rd October 1942 at Sachsenhausen Concentration Camp all seven of the Commandos taken prisoner during the raid were executed.
Captain Joseph Blundell Johnson - Houghton was posthumously awarded the Military Cross and he is remembered with honour at the Brookwood Memorial. He was 31.
---
Charlie Blattner came from Edinburgh and was unmarried. That was all we knew about him. He was among the most modest of men and would always help anyone, regardless of the consequences to himself. Charlie missed St. Nazaire because he had been loaned to Achnacarry to help out before Col. Vaughan's grand opening of the Commando Depot. The author remembers a conversation with Charlie the evening before No. 2 was attacked on Sept. 13th at Dragone Hill, Salerno. Our appreciation of the situation was that a mixed force of panzer-grenadiers and paratroopers was getting ready to hit us in the morning, perhaps numbering nearly 2,000. We had heard the unmistakable rumble and roar of tank engines or self-propelled guns. I remarked to Charlie that it looked as though we would be in for a rough time in the coming hours. Charlie responded with a smile, "But think of those 'puir' German lads! How would you like to attack 160 dug-in Commandos?" Attack they did and when the battle was over we found Charlie at 45 years, the oldest member of No. 2 Commando, K.I.A. in the war.
P.S. The author has a message for Charlie which is - I wish you had an 'email address' because I want you to know that whenever I hear the tune of glory 'Scotland the Brave', I think of you.
---
The Rev. Banting took holy orders after graduation from Cambridge. He became the much-liked Chaplain of No. 2 Commando and served in all their campaigns of 1943-1944. After the battle at Sarande, Albania, the Chaplain was attending to the burial of Commandos and German soldiers when he detonated an anti-personnel mine in a freak accident. Rev. Banting died while being carried to an aid post, 10 October, 1944, aged 32.
---
Pte. Bernard Edwards
When the author was a kid in school he was told that the City of Nottingham was famous as being the home of 'Players' cigarettes and Raleigh Industries. I know now that it is also famous as being the home of one of the group of unsung heroes – the Privates of No. 2 Commando. Bernie typifies the men who went from end to end in all the No. 2 Commando campaigns, carrying the heaviest loads of any ranking which were heavy on ammunition and other equipment, but very light on food and other creature comforts for himself. This soldier was wounded in Sicily and recovered to fight again in Italy, Yugoslavia, Albania and Corfu. He received no promotions or decorations. Bernie survived the war to share the rest of his life with his devoted wife, Pat, and children Dave and Di. He made the pilgrim's way to the Memorial at Spean Bridge with Pat and Di in 1996. After Bernie passed on in 2002, Di remembered her father in every possible way, including attending the 2005 Stand-Down Ceremony of the old Commando Association at Portsmouth. Bernard Edwards and his fellow Privates were the indispensible element of the Commando.
---
The men of No. 2 Commando were indeed a quiet group of men who worked very well together. They said very little concerning their pre-war backgrounds. The Sergeant who was in civil life a floor-walker in a department store was always on very good terms with the bookie (sorry, I mean turf-accountant) and the scion of a wealthy family with huge land holdings and business companies was quite at home commanding his group of men which included men from such diverse backgrounds as a gardener and part-time grave digger, a Lloyds Bank management trainee, a former office-boy, a rather elderly building contractor, professional soldiers, a solicitor, labourers, an elementary school-teacher, a couple of lorry drivers and a former communist party worker. The list of pre-war vocations could go on ad infinitum.
Some time statistics will tell a story or be informative, the author has thought of a few:
The average age of the soldiers of No. 2 Commando was 23. The youngest member of the unit to fall in battle was aged 18 and, at the other end of the scale, the eldest man to be K.I.A. was aged 45.
The volunteer soldiers of the Commando came from 54 different Regiments of the Line and from all the Corps of the army with the exception of the Corps of Military Police. Somehow, strangely enough, the lack of C.M.P. representation was not a cause of great concern or sorrow to the troops.
The South Lancashire Regiment (The Prince of Wales Own) supplied the largest contingent of the volunteers, with the Royal Artillery coming in second place.
The origins of the 2 Commando boys lay in many far-flung lands. As the author's memory goes they were from England, Wales, Scotland, Canada, Southern Rhodesia, Palestine, Switzerland and the Republic of Ireland plus a couple of lads who were refugees and thus, stateless.
Only one soldier of the Commando had seen service in World War I. That was Major Bill Copeland who was awarded a D.S.O. for his role at St. Nazaire.
Only one officer had been with the B.E.F. at Dunkirk. That was Mad Jack Churchill himself. The author muses that if the B.E.F. had all consisted of men of the calibre of Mad Jack, history would now be describing Dunkirk as an attack instead of an evacuation.
About 30 percent of No. 2 were graduates of Achnacarry. This percentage dwindled as No. 2 was forced to replace its losses in 1943, 1944 and 1945 with volunteers recruited from Gibraltar and also the 5th and 8th Army in Italy. Alumni of Col. Charlie Vaughan's finishing school were inclined to be a trifle 'snobby' about their training background. As the news of the ardours of Achnacarry became public domain, the Achnacarry boys were possibly even more insufferable.
What always united the men was their supreme, sincere regard for the family of No. 2 and their collective desire to stay put in its ranks. According to what information this author can assemble, about 72 men (all ranks) were 'Returned to Unit' for one reason or another. Although any man was free to do so, only a handful of the men decided to leave the Commando of their own volition. They were never allowed to return.
These have been an odd collection of thoughts of this, now 83 years gone, author who can only now say that it was good to be one of THE MEN.
nb. The above  account is part of the overall history of No 2 Commando by Bob Bishop No 2 Cdo.
---
Ask Questions / Add Information / Add Photos
Use our Forum for research enquiries, or to add information or photos. [register now]. 
Your message will then be seen by the many knowledgeable members of our Forum.
Photos will be reviewed and added to the Archive if appropriate. 

Read some frequently asked questions here 

[FAQ's].
All content is researched and administered by the Commando Veterans Archive. 
---