'Battle of Steamroller Farm'
Primary tabs
Date commenced:
Friday, February 26, 1943
Location
Tunisia
36° 27' 16.92" N, 9° 30' 30.96" E
A battle involving allied forces which included No.6 Commando against an enemy force comprised of troops of the Hermann Goering Jaeger Regiment supported by tanks. 
No.6 Commando was tasked to patrol a wooded mountainous area North of Bou Arada after intelligence reports of German infiltration through the hills north east of El Arousa. They were not expecting a large enemy force to be present.
The Commando at the time consisted of 4 Troops and an HQ comprising 15 Officer's and 231 O.R.'s. 
At dawn a Fighting Patrol of 30 O.R.'s led by Captain Spooner was ambushed and attacked. The rest of the Commando engaged the attackers and during the ensuing fighting a support troop of 3 armoured cars and 7 carriers of 56 Recce Regiment arrived to assist.
The fierce and at times hand to hand fighting continued with the focal point being the farm on a hill overlooking the road between El Arousa and Medjez El Bab. The Farm had a large Steamroller on it hence the battle name. 
The enemy had superior numbers and were later supported by tanks and as a result the lightly armed Commandos were forced to withdraw with over 40% casualties but had succeeded in holding up the enemy attack. The enemy dug in but were later dislodged by allied forces supported by tanks. 
Sources
Report from Lt. Col. Mills-Roberts in the No.6 Commando War Diary.
DSO Award recommendation for Lt.Col Mills-Roberts ref National Archives file WO373/1/97.
Account in The Green Beret, author Hilary St. George Saunders.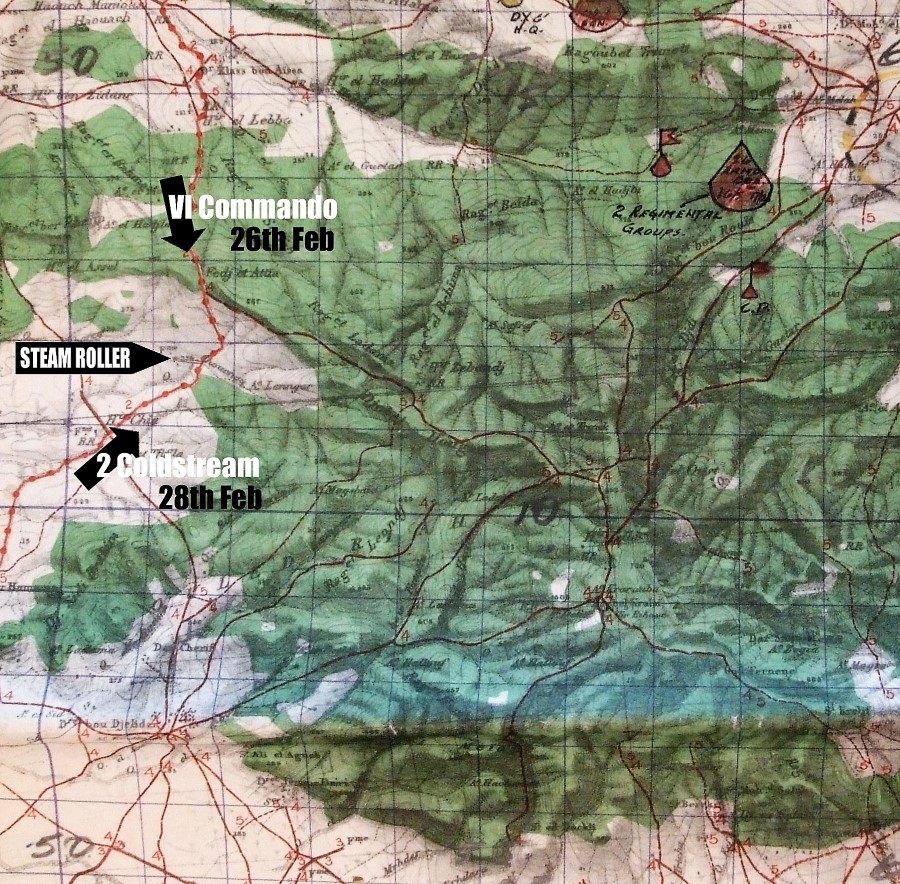 ---
Ask Questions / Add Information / Add Photos
Use the Archive Forum for research enquiries, or to add information or photos. [register now]. 
Photos will be reviewed and added to the Archive if appropriate. 

Read some frequently asked questions here 

[FAQ's].
All content is researched and administered by the Commando Veterans Archive. 
---