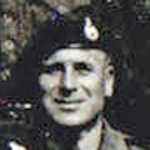 Capt. John Buscall died whilst serving at the Commando School RM. [1]
In 1942 the then PLY/X 561 Sgt John Allan Buscall RM was promoted Lieutenant. [2] 
In August 1943 on their formation, he joined 46RM Commando and served with with 'Z' troop of 46RM Commando. [3]
He received a MID for distinguished services in NW Europe whilst Lieutenant (Acting Major). [4]