Lawnswood Crematorium Leeds
Useful Tip: If you don't find what you are looking for here, use the search facility on the panel to the right below 'Whats New'. The image gallery and forum also have their own search facilities.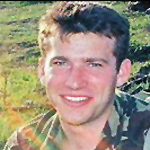 Marine James Swallow was murdered by an ex girlfriend in Plymouth. [Sources: AFM ROH / BBC News online 10th March 2006.]  
---
Register on our Forum and post any additional information that you may hold.
All content researched and administered by the Commando Veterans Archive www.commandoveterans.org 
---