Info: Your browser does not accept cookies. If you want to put products into your cart and purchase them you need to enable cookies.

Advanced Search
Advanced Search according to Parameters
---
The Commando Veterans Gallery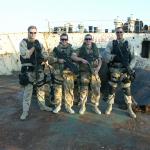 Marines Greg McKenzie and Michael 'Dampers' McGuire, 45 Commando RM
The Commando Veterans Gallery contains over 4000 images of Commandos from World War 2 to the present day. Most of the images have been uploaded by Commandos or their family members. The gallery is an important historical record and tribute to the Commandos. Where possible the CVA research group has identified the men in the photographs, however there are still many unknown soldiers contained within. Please take some time to look around the gallery and let us know if you can identify any men. If you have any photographs of Commandos or related to Commandos please share them.