Are you willing to form a branch of the CVA in your area? All it needs is a few comrades who have worn the Green Beret who are willing to get together and form a group for regular meetings etc.

We already have branches in East Midlands and London.

Interested ? then contact the General Secretary in the first instance.
The Commando Veterans Gallery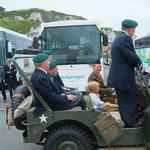 Jeep driveby 5
The Commando Veterans Gallery contains over 4000 images of Commandos from World War 2 to the present day. Most of the images have been uploaded by Commandos or their family members. The gallery is an important historical record and tribute to the Commandos. Where possible the CVA research group has identified the men in the photographs, however there are still many unknown soldiers contained within. Please take some time to look around the gallery and let us know if you can identify any men. If you have any photographs of Commandos or related to Commandos please share them.