STUART, Ted, Memories of 5 Commando and Mission 204
Primary tabs
Type: Letters
Year of Publishing: 2016
Keywords: Mission 204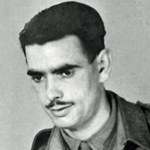 A personal account of the memories of Ted Stuart, No 5 Commando, who volunteered for Mission 204.
Unit Archive (excludes gallery):
---
Register on our Forum and post any additional information that you may hold.
All content researched and administered by the Commando Veterans Archive www.commandoveterans.org 
---
Association Membership
Registering on the Commando Veterans Archive, or on the Commando Veterans Association Facebook page, does not make you a member of the Association. The Commando Veterans Assciation needs your support and membership. Find out more here.