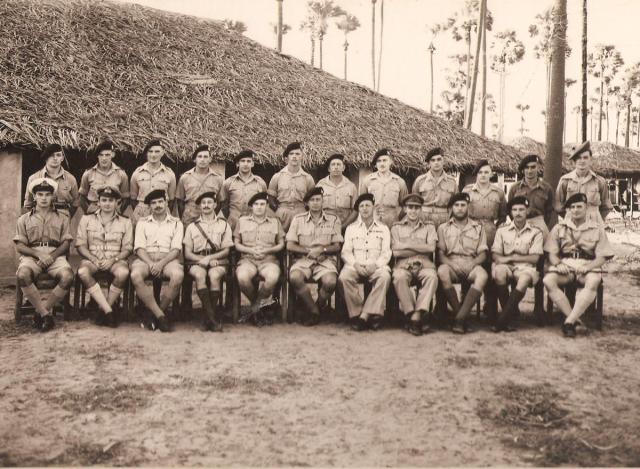 Brief History
The first ever special boat section was raised in July 1940 under the command of Major Roger Courtney and was known as the Folbot Troop of No. 8 Commando. In February 1941 the Folbot Troop sailed for the Middle East as part of Layforce. It was after their arrival that the Folbot Troop acquired the name Special Boat Section. They trained at Kabrit on the Great Bitter Lake and were then attached to the 1st Submarine Flotilla. The Section operated from bases in Malta and Alexandria primarily in train wrecking and beach reconnaissance against targets in Italy and Sicily and raids along the Libyan and Cyrenaican coasts. 
In December 1941 Major Roger Courtney returned to the UK. The success of the Special Boat Section had resulted in a decision to form a second Section in the UK and the first choice for selection of suitable candidates was obvious. 101 Troop of No. 6 Commando had been formed in April and had been tried and tested in operations on the French coast under the command of Captain G.C.S. Montanaro, D.S.O.
Special Boat Section (Home) later designated as 2 Special Boat Section was duly formed, their HQ
on the 2nd April 1942 being
 at Ardrossan/Saltcoates in Ayrshire. Their commander was Major R.J. Courtney, later joined by Captain Montanaro D.S.O., of 101 Troop
[more....]
. Capt. Montanaro was the Chief Instructor in the early days until detached to command the Mobile Flotation Unit, being granted a commission as Lt. Commander in the Royal Navy and left the S.B.S.  After 3 months training the Section was declared operational and moved to Titchfield in September 1942 .
No.1 Special Boat Section continued to operate in the same theatre of war but lost its independence when absorbed in November 1942 within the Special Air Service Regiment.  The SAS itself was reorganised into the Special Raiding Squadron in 1943 with its new leader Paddy Maine, and included the now redesignated Special Boat Squadron under Lord Jellicoe comprising  L, M, and S detachments
No. 2 Specal Boat Section training in the UK in 1942 were destined to take part in Operation Torch in North Africa, and later in raids and reconnaissance along the Mediterannean coast. 
During 1944/5 No.2 Special Boat Section consisted of 'A', B', and 'C' groups operating primarily in the Far East under the command of Majors Kealy, Sidders and Livingstone respectively, with Major Kealy as the Senior Military Officer, and 'Z' SBS who had been recalled from the Far East to continue operations in the Mediterranean under the command of Major G.B. Courtney, M.B.E., M.C.
Source
Special Boat Section memorandum - Formation to February 1944.
British Special Forces, author William Seymour