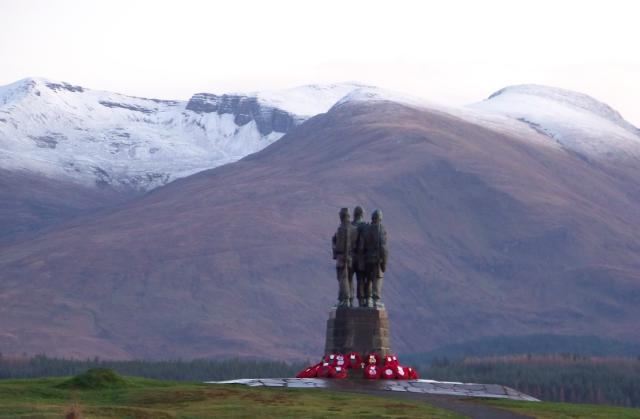 The Commando Memorial is held in high regard and is recognised as a place of National and International importance. It is maintained in memory of and as a tribute to those Commandos who gave their lives in the Second World War and during more recent conflicts.
It is supported through financial donations from the visiting public and the Highland Council look after the memorial site with the aim of retaining the dignity and purpose of the Commando Memorial.
Plaques
It is requested that family and friends wishing to place small memorials and plaques in the memorial garden kindly ensure that plaques measure no more than 6 inches x 4 inches (15cms x 10cms) and are made from weather proof material, and also held securely by a ground stake.
Due to the severity of the Highland weather, items left in the garden can deteriorate quickly. Therefore, Council staff, with dignity and integrity, will on occasion remove and dispose of items that have deteriorated. They respectively ask that no soft toys are left at the site as they deteriorate very quickly and will be removed for that reason.

Ashes
An area has been created specifically for the purpose of the scattering of Ashes adjacent to the Area of Remembrance. 
In the event of relatives wishing to scatter ashes, arrangements should be made with:
The Highland Council 
Community Services 
Carr's Corner Depot
Lochybridge 
Fort William
PH33 6T
Phone: 01397 709000 
email
[email protected]
If you have any more general questions on the use of the memorial garden contact: 
The Highland Council
Chief Executive's Office
Fort William  
Phone: 01397 707231