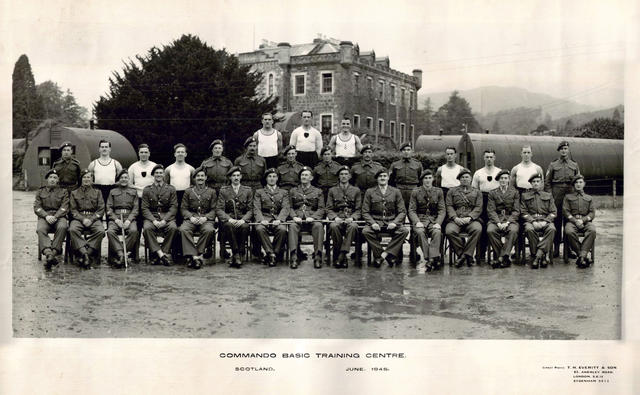 Located on the banks of the River Arkaig the castle is flanked by daunting and desolate mountain terrain. Ben Nevis is just 18 miles away and waiting as a final challenge at the end of most courses. In the immediate vicinity of the main building hutted accomodation was erected, amongst which a large multi purpose hut was dominant.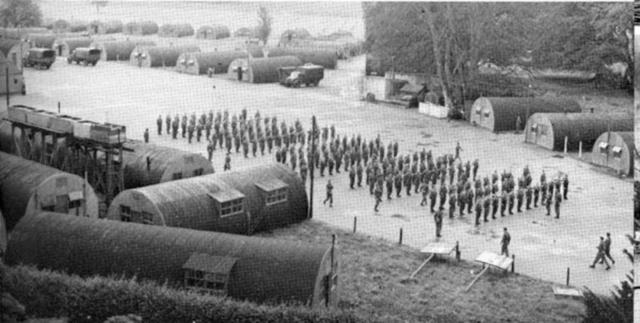 The grounds and castle of  Achnacarry was the seat of Sir Donald Walter Cameron of Lochiel, Chief of the Scottish Clan Cameron, who in June 1940 had given hospitality to No 1 Independent Company. In December 1940, Achnacarry, as well as Achdalieu Lodge, formed the new Training and Holding Wing  for the Special Training Centre (S.T.C.) at Lochailort and remained as such for the next year. Individual Commando units were responsible for their own training at this time and not everyone went through Achnacarry. Commando training also took place in many other locations, including on the Isle of Arran for the early Commandos of 7, 8, and 11 Commandos.
A Training Centre  was operating at Inverary, another at Achdalieu Lodge, and the Special Training Centre was operating nearby at Lochailort but this was to be closed.  A need had been seen to centralise all commando training with a Commando Course that everyone would go through and had to pass. Thus in December 1941 Achnacarry was re-designated as The Commando Depot, and passed under the authority of the Special Service Brigade. 
Around the drill square hard asphalt now replaced the green lawn of the Castle. This square was surrounded by austere Nissen huts with their corrugated iron sides and roofs. These were the accomodation huts, each housing between 25 and 40 men, and also used as dining 'halls', washing rooms, and the NAAFI canteen. Occasionally these were complimented by Bell tents when additional accomodation was required. Achnacarry was now the Commando Basic Training Centre (C.B.T.C.), however we have found references to the old Depot name still being used long after.
The first of the new centralised training courses took place in Feb/March 1942, and by the time it closed in 1946 more than 25,000 men had passed through the gates of Achnacarry to participate in what was the forerunner of all special forces training throughout the world. Not all the men were Commandos. There were other units that sent contingents to Achnacarry for training.  Much of what was taught in these early days is still the basis for Commando training of today. 
In his book "It had to be tough" Major James Dunning, who served on the staff at the CBTC for a period, states the following, "Normal intakes of trainees were allocated to one of the three training Commandos: Keyes, Haydon or Sturges, named after pioneers of Combined Operations and the Commandos. Admiral Sir Roger Keyes, our first beloved boss, and his son Geoffrey, who won the first Commando VC; General Haydon, the original commander of the Special Service Brigade and leader of the Lofoten Islands Raid; General Sturges, a Royal Marine, who after the Madagascar operation became the first overall commander of the Commando Group of four Commando Brigades. Each Training Commando was commanded by a Captain, with a minimal headquarters of a CSM, a clerk and a storeman. The Commando was organized into four training Troops, each under an instructor-officer, assisted by a Troop Sergeant." Major Dunning, a member of the CVA, goes on to say that there was a Demonstration Troop to assist Instructors in their training and this troop had a secondary role as the Pipe Band for the CBTC."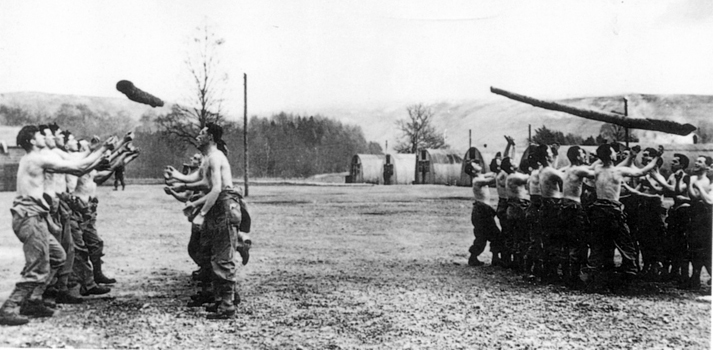 Much of the PT consisted of agility and strengthening exercises, and teaching the drills and skills of tackling obstacles. All the equipment and obstacles were home made at Achnacarry by the staff. The photo depicts trainees using logs, each about 15-20 feet long, as part of that training. The logs were heaved, hurled in the air, and caught in a variety of different improvised strengthening exercises, demanding in addition, plenty of team work and cooperation.
More can be read about other areas of training in the following pages.
It would be remiss not to mention the man tasked with organising and controlling such demanding training, Lieutenant Colonel Charles Vaughan. In his book It had to be Tough, Jimmy Dunning says of him " A Veteran of the First World War and the Retreat from Mons in 1914. In the inter war years he graduated from Drill Sergeant to RSM, but he was much more than just a bawling barrack square man, although he could do that if needed. His obvious military potential as an officer was recognised and he was duly commissioned.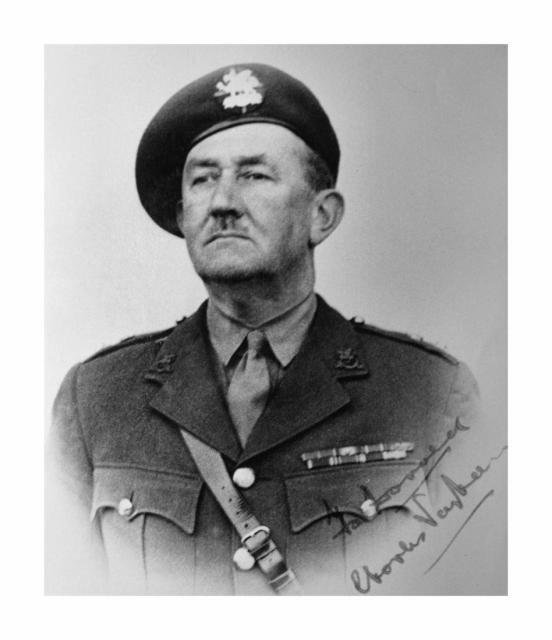 A Londoner by birth and proud of it, Charlie's standards for soldiers and soldiering were set by his long service in war and peace. He accepted nothing but the best, whether it be in fitness, training, weaponry and musketry, fieldcraft and tactics, drill and turnout, or even in the more apparently mundane matters of administration which included feeding and hygiene. 
Together all these factors made the 'whole' - and the self disciplined and reliant Commando soldier 'fit to fight' and 'fighting fit' with high morale, willing and capable of tackling any military task, under any circumstances, and against any odds."
Primary Sources: Donald Gilchrist, CBTC Instructor and author of Castle Commando;  James Dunning, CBTC Instructor and  author of It Had To Be Tough;  Hilary St. George Saunders author of The Green Beret (The story of the Commandos 1940-1945.); No 10 Independent Company War Diary National Archives ref. WO.218/17]
© Commando Veterans Archive  2014
Follow this link to read the No 10 Independent Company history. [relevant to the timeline.]
Follow this link to view the dates of Course Intakes at Achnacarry.
Follow this link to view a Roll of Honour for Commando Training Centres. 
Read on from the link below right ......