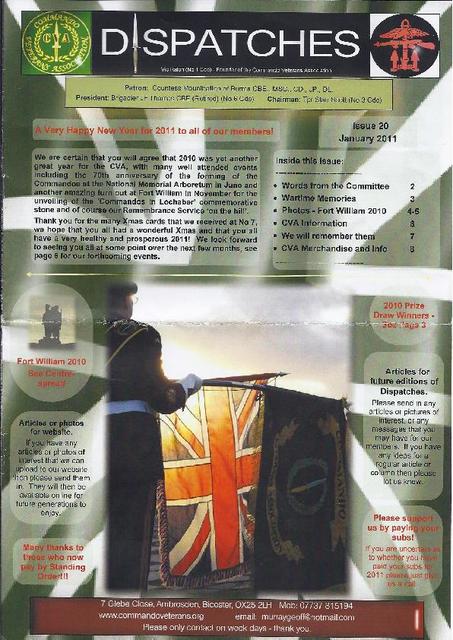 Dispatches is issued to all members of the Commando Veterans Association
If you have anything for the newsletter contact the editor Rich Carr (contact details are in each edition).   Make sure your subscription is paid up to date to ensure receiving a copy.    The Dates of issue are as follows.
Spring edition: April - to include arrangements for the Summer Service in June, and report on the Elmwood School and RHC events.
Summer edition: August - to include arrangements for FW,  and report on the Summer Service held in June .
Christmas edition: December - to include a Xmas and New Year message, arrangements for Elmwood School (January) and the RHC (April), and report on the previous Remembrance weekend and Walcheren events, including a summary of what was agreed at the AGM at FW.
Deadline for inclusion of any article in the above editions would be the last day of the month before.  A letter will be sent to members in the unlikely event of any important notices that need to be brought to their attention outside of these dates.  
If you would like anything included in future editions please contact the editor Rich Carr whose contact details are in the Newsletter, or email the National Secretary. We rely on the content submitted by you for future editions.