An article about L/Cpl. Henry Eric Harden VC RAMC - The Only Medical Corp VC of WW2
Primary tabs
L/Cpl Henry Eric Harden VC
 R.A.M.C. attached 45 RM Commando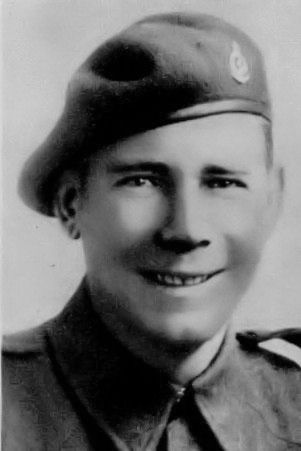 The Only Medical Corp VC of WW2
By Robert J Mewett
New students, like me, of the Victoria Cross could be forgiven for thinking that by the very nature of the tasks set to the skills of the R.A.M.C and their presence in nearly all front line fighting that their numbers would be bristling with WW2 VC recipients.  And in my opinion this would be right and justified.  But this is not the case.  Only one was awarded during the Second World War.  Henry Eric Harden was attached to No 45 RM Commando as their medical orderly during their fiercely fought action at Maastbract in Holland.
Henry Harden was born on 23 February 1912 in Northfleet, Kent.  In a family of eight he was the seventh son.  A keen sportsman he excelled at swimming, tennis and football at school in Northfleet where he received all of his education.  Also a keen musician he played the Violin.
At the age of ten he helped out in his brother in- laws butchers shop.  He eventually became a butcher taking over the business when tragically his brother in-law died. Very early on Henry showed a keen interest in things medical and joined the St Johns Ambulance brigade where he became a sergeant.
As the war effort gathered pace in 1942 the 30year old Henry Harden was conscripted into the Royal Artillery but as his medical aptitude became realized he was soon transferred to the R.A.M.C, where he served in a field ambulance unit.
Henry soon became restless with inactivity of service at home and in November 1943 he volunteered for the Commandos and was posted to the Achnacarry Commando training depot situated in the Highlands of Scotland.   A comrade of the same intake Mne. Keith Thompson , later also of 45 RM Commando , remembers sharing billets with Harden who he says was a quiet quick witted individual with a keen sense of humour.   Commando training successfully completed Harden was posted as a medical Orderly to Able troop 45 RM Commando in January 1944.    
He and the rest of the Commando commenced training for, which was to become the D-Day landings.
After their involvement in the D-Day activities 45RM Commando, who along with No 3, No 4 and No 6 Army commando formed No 1 Special Service brigade, returned to the UK for replacements and refitting and on 6th December 1944 was renamed the 1st Commando brigade.   
1St Cdo Brigade was expecting to go to the Far East but on 7th January orders were given for them to return NW Europe.  The first action on arrival in NW Europe which involved the brigade was 'Operation Blackcock'.  The objective was to clear the enemy from the Roermond Triangle.   Attached to the 7th armored brigade they were given the job of crossing the Juliana canal and driving on through Maastbract and Bracterbeck in order to capture the town of Linne.
On the freezing night of the 23rd of January 1945 the German forces were already in full retreat out of Maastbract and on the same night No 6 Army Commando had successfully traversed the frozen canal and occupied the town.  45 RM Commando had pushed forward to occupy the smaller village of St.Joostburg  setting up HQ in a house situated behind the local church which offered protection from incoming fire.
Able Troop of 45 Cdo was ordered forward along the station Rd to occupy the railway station at Maastbract.  All went according to plan until the troop reached the crossroads.  Here they were trapped in an ambush by the enemy forces that had set their lines at Montfortebeek.  Able Troop came under intense MG and Mortar fire and were split and cut off from the main force. Some men had to lie in the freezing snow covered fields while others took cover in houses and outbuildings. Able Troops situation was made worse by a well placed German sniper who added to what seemed to be a helpless position.
Sheltering in one of the nearby houses was the RAMC contingent and among them Doctor John Tulloch.   Tulloch observing the situation, with dead and heavily wounded lying in the open fields, decided to attempt to help his comrades.  He arranged for jeeps which would be protected by a Red Cross ensign to drive out and to bring back as many wounded as they could manage. The Jeeps set off on their mission and were on their way back when they came under heavy enemy fire, an action which violated the Geneva Convention, one jeep was completely destroyed and all the occupants killed.   John Tulloch was awarded the MC for his valiant part in this action.
The position then was this. A part of Able troop was pinned down and had taken severe casualties.  The troop's position was exposed and was being exploited by a well placed sniper.  A party under the protection of a medical ensign had attempted to extract wounded and been seriously attacked. The foregoing makes the feat of Henry Harden strikingly selfless and even more remarkable.  Harden had been observing the unfolding events and still insisted that he go out and try to help and recover more of the wounded armed only with a side arm for self protection.
On all fours he scurried alone a distance of 120 mtrs across flat open ground while the area was being swept by heavy and concentrated fire.  He calmly bound up the wounds of one officer and two marines and successfully dragged one marine to safety single handed.  Whilst dragging his wounded comrade eye witnesses could see the snow flying all around from bullets one of which wounded Harden in his side.
After Hardens initial success two other attempts to rescue the wounded were made, one by tanks and the other with the aid of a smoke screen, but both failed. Harden was ordered not to expose himself any more but despite this he arranged a stretcher party, and while carrying a white flag with a red cross went out yet again to attend his comrades. Even though the second marine was hit again while being transported and died, Harden, with stretcher bearers , went out a third time.  It was while assisting an officer back to safety on this third attempt the fearless Harden was mortally wounded.
The intensity of the enemy covering fire prevented any body recovering Harden until the next day, but Hardens valour had inspired all around and they were able to hold and secure their positions.  Enemy counter attacks were beaten off and the objective of capturing the town of Linne was eventually achieved by No 3 Army Commando.  With help from tanks of the Royal Hussars they stormed the town and overcame fanatical enemy resistance.
When Henry Harden performed this courageous act he was 32 yrs old and was married with two small children.  
Although Henry Harden was the only recipient of the Victoria Cross in the R.A.M.C from the WW2 conflicts they are the third highest recipients, behind the Royal Artillery and the Royal Engineers, of the award. The R.A.M.C are however the Regiment with the highest number of awards per capita in the British forces.
Henry Eric Harden VC is buried in the Nederweert War Cemetery Holland.
Henry Harden's Victoria Cross is held and displayed at the Army Medical Services Museum Aldershot.
The memorial plaque at the bridge in Montfortabreek.  A slight inaccuracy on the plaque states Harden was killed on his fourth attempt.  His Gazette citation however states clearly that it was in fact on his third attempt that Harden fell.
My Thanks to:
Stan (Scotty) Scott…….3 Commando
Mne. Keith Thompson…., 45 RM Commando
Major Erehard Vandaele ……….Medical Corp Reserve….Belgium Armed Forces (Translation of Original documents)
---
Ask questions / Add information
Use our Forum for research enquiries, or to add information or photos. [register now]. 
Your message will then be seen by our Research Group and the many knowledgeable members of our Forum. 

Read some frequently asked questions here 

[FAQ's].
All content is researched and administered by the Commando Veterans Archive. 
---